Today's mail brought a beautiful surprise! Many of you know that I participate in Postcrossing in which I send and receive postcards around the world (mostly sending to Finland presently, but I did get an assignment to Canada, Brazil and Belgium this week!) I love postcards and I love stamps, so this postcard swapping gives me a "fix" for both hobbies!

This month, on the 4th, I received an assignment to send a postcard to Inka King in Finland. I noticed on her profile that she had two young children, a son age 6 and a daughter to be 4 this month. Well, two of my children have June birthdays, too, and I decided that besides sending a postcard to Inka, I would send her children their own postcards and some stickers. I have some postcards depicting beautiful artwork by Nathan Greene, and the two I selected had children in them. I loved this postcard the best. It's called "The Lion and the Lamb", and I think it is so full of hope and love. The other postcard was this one called "Johnny Made Whole", another one so full of hope and promise. So I sent those two postcards and some stickers to her children, and a postcard to Inka in her favorite shades of Orange, all in one envelope. It obviously pleased her very much because she sent a "Thank You" which isn't a requirement of Postcrossing. Look at her "Thank You"!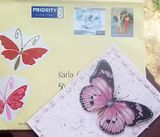 I was definitely touched! What effort she put into this!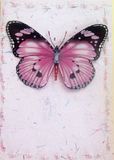 She made a card on what appears like homemade paper (it has tiny flecks of various colored fibers in it and is so pretty!) and wrote a note within. The card's cover was "stitched" with beaded wire around its edge and in the center is this huge gorgeous pink and black butterfly! I love beads, butterflies, and the color combination of pink and black! The butterfly is actually a magnet, too! But it is so delicate that I am going to leave it on the cover of this card for awhile. My childen won't be able to resist playing with this if I put it on the refrigerator, and it will tear so easily. So I have pinned this card up on my bulletin board on the wall in front of my desk so that whenever I look up, I can see it. It pleases me each time I look upon it!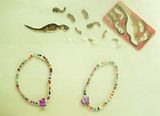 Besides this card she created for me, she also enclosed a treat for each of my children! The girls received a beaded bracelet with a single butterfly bead included among the multi-colored beads.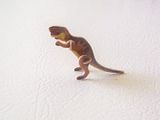 And TJ received this unique dinosaur puzzle, which really is tiny! My daughter Jessica and her daddy actually were the ones to punch out the small pieces from the cardboard and put it together. It's a 3-D dinosaur! I've never seen such a tiny puzzle before!

And even the envelope she enclosed everything within was decorated! She affixed beautiful and large stamps from Finland and also huge butterfly stickers on the front and back of the envelope! This really was a joy to receive in the mail today. Thank you so much, Inka!