During my "hiatus" from this blog a couple weeks ago, several things happened which I wanted to share. Jessie's birthday was on June 23rd...I'll blog more about that later...Keri's free yarn arrived...and so did my Colorswap package for June which was a Blue theme! So here are the goodies I neglected to show you in my previous post.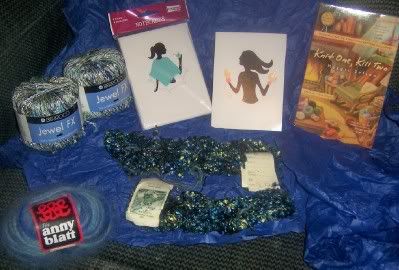 Kim
sent all this wonderful yarn: 2 balls of Berroco Jewel FX (I love this! I had a ball of this in my stash but in Rose-y hues as it was just too pretty not to buy), 2 skeins of yarn from The Great Adirondack Yarn Co. (I have never seen this yarn and its so pretty), and also a soft ball of Anny Blatt Super Angora! This is new to me, and I've heard many nice things about Anny Blatt yarns. How luxurious! I feel really pampered having this yarn. Kim also sent a package of Knitting Cards, of which I needed more! And the paperback book "Knit One, Kill Two". I am very happy to have my own copy of this. Thank you again, Kim for this wonderful June Colorswap package!
I'm looking forward to my July Colorswap package because I LOVE the color purple! It's so fun to look for purple items, too!
Hey, if you need another "Color" swap to join, there is a new swap in town! It's called
Favorite Color Swap
and is hosted by Nichole. What's different about this color swap is that you can actually pick the price range you want to spend and be paired up with the same. So whether you want to spend just $10 to $20 or more at the $40 range, there are at least 3 categories of which one should fit your budget. And in return you will also receive from one who has also chosen the same price range. You can also choose to receive items that relate to your craft, or participate in a non-crafty category where you could receive just about "anything" as long as the items fall under the color theme of the month. This is also a "Secret Pal" sort of swap. You won't know who is gifting you. I think there needs to be more players, so I'm getting the word out. Check it out! Sign up through July 20th!