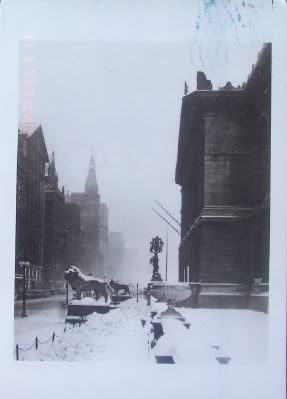 Today's mail brought a postcard from my SP8! She says this is a postcard from her vacation this year and a hint as to what my next package will be....She assures me it's not going to be snow, but I'm at a loss to guess what else it could be! This postcard depicts a view of The Art Institute of Chicago after a snowstorm around the year 1920....Is she going to send me a building? A lion?!! I'm just at a loss to guess. About all I can think of is some "snowflakes". I like to crochet snowflakes, maybe my SP8 does, too. I am definitely curious as to how this postcard is a hint. Maybe the hint is the postcard itself...maybe she's going to send me some postcards!
Speaking of postcards, I've been remiss in updating my Postcrossing postcards received in the past two weeks, so here's a view of the latest lovely paper I've received in the mail.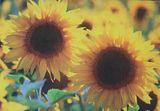 This postcard came from Minna in Finland. Minna is 37 years old and with her husband and daughter lives in a small village about 80 miles from Russia. I just love these cheery sunflowers on this postcard.
This long panoramic postcard really had me smiling when I saw it, because I knew whoever had sent it knew I loved yarn!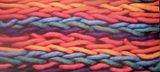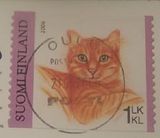 This is from Anni in Finland and she's into knitting, too! I was surprised to learn from her profile when I registered receiving the card that she is only 12 years old! She's a cat lover, too, which probably accounts for the cute cat stamp she affixed to this lovely postcard.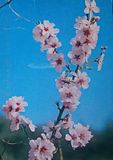 This pretty postcard had me thinking of Japan when I first saw it. I don't know why! But I chuckled when I read Laura's note on the reverse side: "These flowers always remind me of Japan and when in love films their pedals fall on the lovers in the park." Isn't that just a lovely image? I had forgotten about that, but yes, I remember films where these blossoms flutter to the ground around an embracing couple. The fact that she also thinks of Japan when she sees these blossoms is what made me chuckle, though. It was my first thought when I saw the postcard! Amusing also considering that this postcard journeyed from Finland!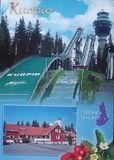 This postcard, also from Finland, is from
Anu
. Anu sent a postcard depicting this local tourist attraction, Puijo Tower. I don't think I want to go skiing off that slope! But thank you, Anu, for the interesting postcard.
And finally, my daughter Kelley received her very first postcard from Postcrossing.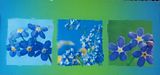 I was SO JEALOUS when I saw this beautiful panoramic card. The blue and green hues of the card are lovely. And the flowers!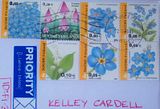 If that wasn't enough, look at all the gorgeous flower stamps on the reverse! This should have been coming to me! ha ha! But truly, I was excited for Kelley to receive her first postcard. She got a beautiful start.Ironically, Kelley's next assignment is going to Anu, the lady in Finland who sent me the last postcard of Puijo Tower!
Now if this post doesn't make you interested in Postcrossing, I don't know what will. You can receive postcards, too! Check it out
here
.