Yes, it's been awhile since I've posted. I've been thinking of posting almost everyday since, but I just have other things that are pulling at me to take care of. Mainly I've been trying to wrap up my Toy Swap goodies for my partner, Tina, over at Crochetville (almost done!) and then the Kitchen/Bath Swap for Cindy, also at Crochetville. After I finish these two and the Accessories Swap for Kiki, I think I'm going to take a break from the C'ville swaps. Perhaps it's the summertime weather and activities, but I have been finding it very difficult to sit down and do any crocheting. So I'm going to finish those up and maybe just do the light swaps over at Swap-bot. I've been participating in a few that deal with "paper" (stickers, postcards, letters...) and they're quick and easy and inexpensive to complete. These swaps have been fulfilled from my own sticker collection and postcard and card collection. So no costs involved there except for slight postage.

I have a lot to update but for now, I'll just leave you with my goodies from the "Stickers with a Twist" swap and the "Cards, Cards, Cards" swap over at Swap-bot. And of course, click on the pictures for a larger view. Aren't these fun?!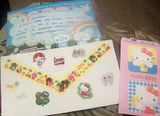 This was my first set of stickers from the "Stickers With A Twist" swap over at Swap-bot. These came from Queta and had the cutest little stickers. I especially loved the "Hello Kitty" pouch in which she used to place the stickers.





This set of stickers was the second set I received and they came from Jenna in Illinois. I especially loved the large Heart/Wings sticker.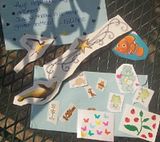 This third and final set of stickers arrived yesterday from Niki in Massachussetts. I loved how she hole punched the little note with stars and hearts. My favorites in this set were the ladybugs and the butterflies. I even received a few green frog stickers just like a set I have! Can't ever have enough of those cuties!



If you'd like to join up on a sticker swap, they're doing another one called "Stickers With a Twist 2". But hurry! The cutoff date to sign up is this coming Monday, July 10th, and the swaps should be sent out by the following Monday, July 17th.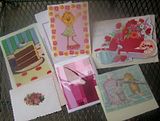 Today, the cards from the "Cards, Cards, Cards" swap arrived from Catherine in Virginia. Loved them all! My favorite(s)? Definitely the roses in the embossed heart and lace. And the Suzy Zoo card...she just looks so enthusiastic and happy! And I loved the one that arrived in a cellophane wrapper. It's a "happy birthday" theme card and is stitched with pink thread all around the card face. I love the colors of this card and just the uniqueness of it.

If you haven't heard of Swap-bot, I'm sure you'll want to go check it out. There are all sorts of swaps and surely something you would be interested in. For me, I'm into the "paper" swaps right now. They're short and sweet and simple. So go! Run! Check it out! Click here to go there!