This first photo is not from a Swap, but rather simply a promo gift.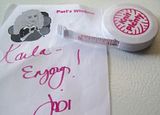 Jodi
with Knit and Plenty sent me this complimentary tape measure for simply giving her my local yarn store's address and owner's name so that she could contact them. Go visit her blog and do the same for your complimentary tape measure!
Here
is her specific post with the details. Thank you again, Jodi!
The following are goodies from Swap-bot swaps:
~~Stickers With A Twist Take 3~~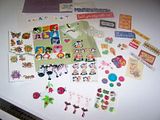 Ella
(slice of pumpernickel) sent me this lovely assortment of stickers for the Swap-bot swap. This was an 8 sticker exchange....need I say more? I was flabberghasted and THOROUGHLY enjoyed the selection of stickers she sent. These weren't anyone's rejects! (Or they at least were GOOD rejects!)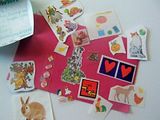 This set of stickers was from
Shelley
in Oregon. Some cute stickers in this assortment.
~~Bookmark Exchange~~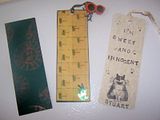 Amy
sent these 3 lovely bookmarks for the Bookmark Exchange. She obviously likes to Rubber Stamp. My favorite must be the one with the "sunglasses" button at the end of the tassel.
~~What I Do To Relax~~
Liz C. in NY sent me a lovely letter previously and a copy of a knitted pattern as she likes to knit when she needs to relax. When she received from her partner a skein of yarn, knitting needles and a pattern magazine, she realized she misunderstood the intention of the swap and emailed me to apologize and let me know she would be sending me something else. That sounded lovely.
When I received her package yesterday, I couldn't help but feel slightly puzzled and disappointed...this had nothing to do with the knitting that she said she likes to do to relax. Perhaps she also enjoys cross-stitching to relax. I do, too. But these items obviously came out of her own stash. Oh, I don't mind people sharing things with me out of their stash! But I would send something relatively new and current in style...certainly not an OPENED cross-stitch kit. Hmmm.... I really enjoyed her initial letter and guess we should've stopped there.