(click for larger views)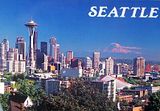 My SP8 sent me this beautiful postcard depicting the city of Seattle during her recent travel with work. I loved it! I love to see pictures of cityscapes and horizons with towering skyscrapers and other interesting architecture. My SP8 tells me that she will be sending a big Reveal in the next few weeks...I'm very interested in discovering who she is.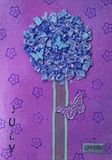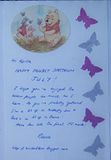 This postcard...wow! What can I say about it? It is just simply GORGEOUS! This postcard is from
Carie
in the UK and is for the Project Spectrum Postcard swap for the month of July. If you remember, the color of the month was purple. Didn't she just do a wonderful job on this postcard? How creative! She loves butterflies (can you tell?) and so do I. So this postcard that was filled with butterflies just really suited me. She created that "flower" with ribbons of various purple shades. Then she STITCHED them down in a random way, it seems. She also stitched two blue butterfly buttons within the flower 'petals'. Can you find them? It's just a super fantastic job and I loved it the moment I pulled it out of its envelope. Thank you so much, Carie! What a beautiful card you created.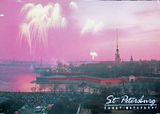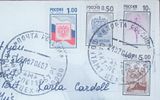 This postcard arrived through
Postcrossing
and from Russia. St. Petersburg again. Interesting stamps and postmark, too.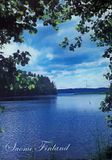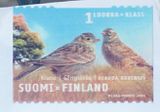 This postcard arrived from Finland, also via Postcrossing. I just love the peacefulness of this setting pictured. Beautiful stamp, too!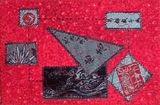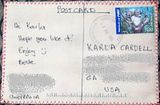 This lovely card arrived to me through the FiberPC group. Isn't it so interesting? I really love the red/black color combination which gives it an Asian flair. I've also included a view of the reverse side as I have often wondered what the reverse side looked like of the Fiber Postcards the ladies in the group make. Now I know!