Here are some updates on swaps and such over the past month. I'm glad to finally have all this updated, especially for SP8, Favorite Colorswap and the One Skein SP Swap!
~SP8 REVEALED!"~
I am behind on getting this event blogged, but SP8 was a great round, and I loved discovering who my spoiler was! It was none other than
Ann
of "Diving for Purls"!
In August, Ann revealed herself with this wonderful package!
I just LOVED it when I pulled out that first skein of Lion Brand's "Landscape"! This yarn is so soft and yes, Ann, the colors are my favorite! I can't wait to work this up into something. I was thinking a small handbag....I was surprised to read that this yarn will felt!
Ann also included a pattern booklet of children's ponchos which have quite a few cute ideas for making ponchos for my girls. Yes, I do get a kick out of making things for them. In fact, I've been thinking lately that I have been spending too much time making things for other people and need to stop all that and start making some things for my girls again! And TJ, too! (Don't tell Jessie, but I am working on a purple afghan for her...I can't say anything on here about what I might be making for Kelley because SHE READS MY BLOG! Gotcha, Kelley!)
Thank you again, Ann, for the lovely SP8 round. I loved everything you sent over the months and you really personalized each package which made it that much more enjoyable. Have fun in SP9 if you play again! Who couldn't?
~FAVORITE COLORSWAP"~
Jan
sent this outstanding package for the Favorite Colorswap last month. She said she might have "gone a little overboard" but you can see why I'm not complaining! Wow! I was very excited to receive this package because she really kept in the theme of the swap..."favorite color" swap! Can YOU guess what my favorite color is? ha ha!
I loved everything, Jan! I venture to say that the Rosewood hooks were my absolute favorite item in this box, but I had lots of favorites...the notecards with the butterflies fluttering around that fushia-colored rose, the knitted facecloth featuring a butterfly pattern in the stitches!, the cute Tootsie Roll notepad, the charms of the dragonfly and butterfly, the Lion Brand yarn, the beads!, the fuschia colored tissue paper to wrap it all up in...you just did an OUTSTANDING job personalizing this package and I really enjoyed it. And even a cute origami butterfly! I noticed all the details you took in making this package all to my likes. The children loved the playdoh and you wrapped it so festively in those cute little boxes! Thank you, Jan!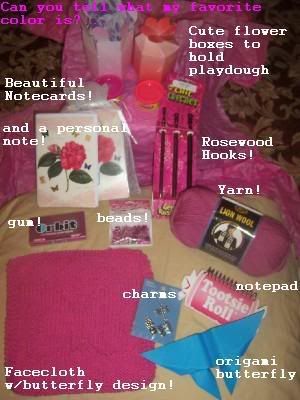 ~ONE-SKEIN SECRET PAL SWAP~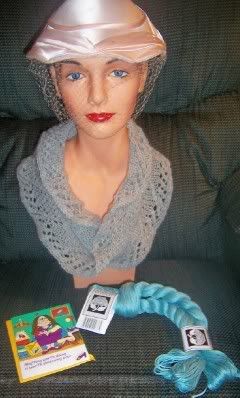 Last week I received August's final swap package from my One Skein SP who happened to be Jennifer from "
Knit One, Purr Too
" (not to be confused with the blog "Knit One, Purl Too"). Jennifer sent this beautiful and VERY SOFT Mobius Cowl, a
pattern
from DIY. I am looking forward to cooler weather so that I can wear this!
Jennifer also included a skein of sea green Pima cotton/Tencel that is very luxurious. I just love cotton like this and am looking forward to creating something with it. Being in the One Skein Swap and having to think of projects to make with only one skein of yarn made me realize that one skein of yarn really can be enough to make a beautiful object. Now to consider what I will make with this skein of silky cotton...
Thank you again, Jennifer!
~CROCHETVILLE'S "ACCESSORIES SWAP"~
Because my original partner reneged on her obligation to the Accessories Swap (for reasons unknown to me as she never contacted me during the exchange, nor let me know that she received the items I sent to her), an "Angel" was found who selflessly gave up her time to make and send a gift.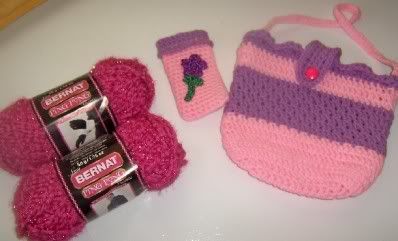 Vickie
sent this very cute purse and cell phone holder set! My daughter Jessica just HAD to have it, though, and I only briefly was allowed to touch the items when they arrived Saturday before giving them over to her.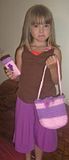 Though she tried her best not to crack a smile for the photo, you can be sure that she liked the gifts very much. Purple and pink are her favorite colors.
Though I didn't get to keep the purse and cell phone case, Jessica doesn't know how to knit or crochet yet, so therefore has no use for the two skeins of gorgeous hot pink yarn which Vickie also sent. MY favorite color! And all MINE! Plus, I've been wanting to try Bernat's "Ping Pong"!
Thank you, Vickie, for the time and effort you made to be sure I wasn't left out in the cold in the Accessories Swap. You did a really great job on this set!
~CLBMX~

Tuesday's mail brought this wonderful Bookmark puffy from the
CLBMX
.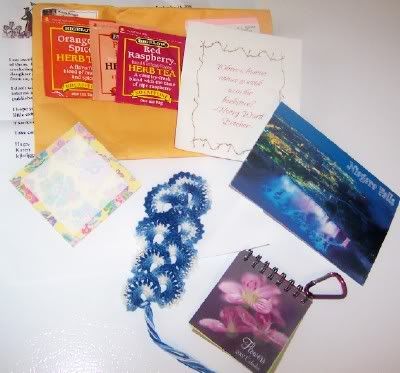 Besides the beautiful variegated blue
"Fan"
bookmark Karen sent to me, she also sent some tea, a gorgeous scenic postcard of Niagara Falls, NY (I always thought that was the name of the FALLS but that is actually also the name of a CITY there in New York! How many of you knew that? How many of you, like me, DIDN'T know that?) Karen also sent a lovely note about herself, a floral sticky-note pad, a wonderful quote by Henry Ward Beecher on a card that reads: "Where is human nature so weak as in the bookstore?" I agree! I love bookstores! Which is probably why I loved movies like "You've Got Mail", "Funny Face" (was that Audrey Hepburn's movie with Fred Astaire where she worked in a bookstore?), and any other movie that features a bookstore! This card will make a nice bookmark itself if I don't frame it and set it here on my desk instead! And Karen also sent this adorable 2007 Calendar Keychain which I've never seen before! I love this! I also noticed on the reverse that it is distributed by Studio8 here in Atlanta, Georgia. I am familiar with Studio8 because they distribute the knitting notecards I've received in the past. I never knew they had these cute keychains, too. What else does Studio8 have?
~SWAP-BOT~

There was also a Bookmark Swap I participated in last month at Swap-bot, and
Shel
sent these two beautiful bookmarks which she made, one knit and one beaded!
I was using the book in the photo as a "prop" to display the beaded bookmark. I received the book from
Paperbackswap.com
. It's the first of Monica Ferris' books I'm reading. I think I will read more of her titles! If you haven't joined Paperbackswap yet, go check it out! It's FREE!
In other swaps, I received all 3 of
Swap-bot
's "Stickers With A Twist Take 5" swaps!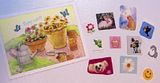 Joy's arrived Saturday of this past weekend. Click on the picture to see a larger version. See the cute stickers! I especially loved the notecard! Butterflies and flowers...It doesn't take much to please me, you know.
The initiator of the exchange,
Marie
, received my name again in this swap (I received from her in a previous "Take" of the Swap) and sent these lovelies which I received on Monday.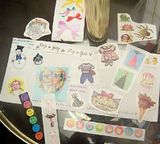 And once again, I received from
Ella P.
on Monday. I've received from her before and she has become one of my favorite swappers!