My goodness, I can barely believe that it's been almost a month since my last post! Whew! All's well here, however. It's just been one thing after another that has come up, as I know many of you can relate to. Probably the #1 reason why I've been missing is due to the childcare situation with Emily this past month. She's here at 6 am to 3 pm and it's taken some adjusting on our part and her part. I can thankfully report that she's adjusted well as have we to this new scenario. She's so different from that first week we began looking after her while her aunt and uncle work. Now she's bright-eyed, playful, into everything! ha ha! She's definitely blossomed being out of the situation she was in. I don't know how that saga is going to play out but my neighbors should know by the end of the month. It's been suggested that they go ahead and apply for custody rather than waiting until the end of the month if this is the route they want to go. And I have heard that this is the route they want to go. They can't IMAGINE her going back to what she came out of. Of course, we're all realistic here. Life's not always fair and played as it should be. But they can only go on from here, one foot in front of the other each day, come what may.
Other reasons for my missing from the blogworld are numerous and varied and really inconsequential. I'm here for now and will try to update you all about what's been happening in my yarn (and beads and mail) world. I'll break it up so as not to overwhelm you all, but I hope you have some time to hang around. Sit back, sip on your tea, or soda, water, or coffee, and spend some time with me.
POSTCARDS!
Here are a few postcards that have arrived via Postcrossing in the past month.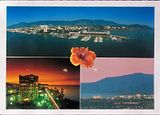 This beautiful postcard came from Sharzy. She was actually the recipient of one of my postcards and she was sweet enough to send me a gorgeous postcard of Cairns, North Queensland! I love it. And look at the cute Koalas stamp!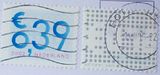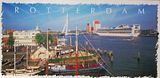 This postcard came from Wilma in Holland. It was a nice panoramic card, not your standard 4x6 postcard. Interesting stamps, too!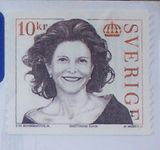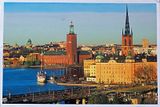 This card came from Finland, I believe. I will update on this card later when I locate it....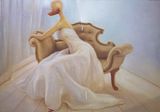 This postcard I loved! It is from Laura in Finland and I loved the soft gracefulness of this postcard...and then I laughed out loud when my gaze traveled up to that DUCK FACE!! Very cute!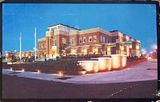 This postcard came from a Swap-bot friend, Bekka. It's of The Johnson City Public Library.
This postcard is actually postcard 1 of 2 for the "Postcard Addicts" swap at Swap-bot. Unfortunately, I only received this one postcard from this swapper. But I loved it! I wish I had one of these for every state! There is an entire set of these "USA stamps" postcards. Any readers out there have these "stamp" postcards from their state?
SWAP-BOT!
Speaking of "Swap-bot", here are some swaps I received in the past month.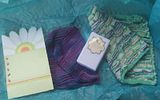 Remember Bekka from above who sent me a postcard of her library? Well, she was given my name in the "Knit/Crochet Dishcloth Swap" and she sent me two dishcloths, a bar of almond soap, and a cute flower note! Great swap!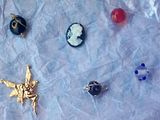 Then Debra sent me these beautiful beads in the "Beading Supplies" swap. She sent 4 bags of various beads, a bag of cameos, and some charms! Oh wow, I loved them all! I've even already made some stitchmarkers from some of them! (Click on the picture to see it enlarged.)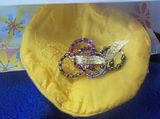 Speaking of stitchmarkers, here are some I received from the "Mark Those Stitches" Swap. These were unique and I liked them! You might have to click on the picture to enlarge, but basically these are wires beaded with tiny beads and formed into a circle. The entire circle is the stitchmarker!
Erin
shipped these enclosed in the pretty yellow pouch you see in the picture. It closes with a zipper and is quite practical for stitchmarkers.
ONE SKEIN SWAP!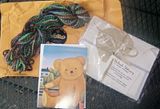 My One Skein Secret Pal sent me this lovely skein of Noro yarn for the July round of the swap. She also sent me a cute note and a package of wonderful recyled notecards to write my own notes thereon! I love new stationery and notecards! The yarn is very interesting and unique to my stash. I haven't decided what to make with it yet...any ideas? I'm looking forward to seeing what she made with one skein for August's final round.
CLBMX!
This is a bookmark I designed for my partner in last month's Crochet List Bookmark Exchange. I'm sorry the picture is so dark, but you can still click on it to get a better view. I was thinking of a Summer theme. My bookmark is a purple flip-flop, crocheted in thread, and the straps that slide over the top of one's foot was beaded. I also beaded the end of the tassel. I really liked the end result and will have to make myself one now!
THE GREAT BOOKMARK EXCHANGE!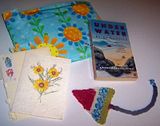 This is the bookmark and book I received from
AmySue
for the July exchange. I loved the puffy blue flowered envelope she used for shipping and the flowery notecard inside!
For August's exchange,
Lucy
sent me this! I was very surprised with her generosity and definitely pleased with her book choice. I love to watch Katherine Hepburn movies (I loved her in "Little Women" especially and wish I could find a copy of that movie!) When I saw this book advertised somewhere or other once, I wanted to buy it and read it. But I never did! And to see it in the bottom of the box of goodies that Lucy sent to me, well, it was quite a pleasure to receive. And look at the beautiful bookmark, too! White, with an edging and tassel of lavender, one of my favorite colors. And the notecard was gorgeous! Purple flowers, fluttering butterflies, and she even sealed the envelope with lavender-colored hot wax and sealed it with a butterfly imprint! I was really loving this box of goodies simply because of the details! Purple and butterflies, two of my favorite things. And unbeknownst to her, Katherine Hepburn was another "favorite" thing! And she even sent tea, yarn, an "angel", and a little cross-stitch kit of tea things! She really catered this package to me and my tastes. Thank you, Lucy!
Ok, I have a tad more to share with you all, but I think this post is way long enough. Don't you agree? So savor this post, and I'll see you later with some more pictures. Maybe I can show you what I've been doing! I HAVE been making things, too, you know. Ta ta for now!