Today's mail brought this beautiful panoramic postcard from Annette in New Zealand. I was struck at the view of the mountains behind the lake. The bottom half of the mountains looks green and lush and the top of the mountains are snow-capped! It's like two seasons in one!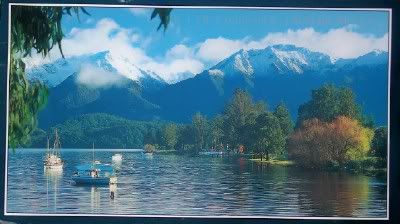 Of course, I loved the stamp, too.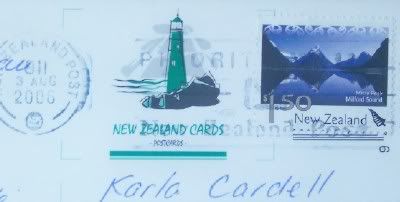 On the yarn front, I haven't been doing too much. I have crocheted a few dishcloths for a dishcloth exchange over at Swap-bot. Need to send one to two partners now. I would love to be able to sit down and relax with some crochet and knitting. It seems I don't have any time to do that lately. I'm up at 5 am, have Emily until a little after 3 pm, then its time to think about the house and getting it back in order, then dinner, then getting my children to bed, then I'M READY FOR BED by 9 pm! Oh, to find some time to be ALONE with some yarn....