The mail just arrived and a little white puffy envelope was in the bunch. It's from Maggie P. for the Stitchmarker Swap over at "
StuffKnittersWantandGottaHave_Exchange
".
Look at these great Fall themed stitchmarkers she made.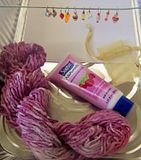 She also sent a skein of chenille, I believe, in a hot pink/purplish color. The color isn't throughout the strand so I don't know if this is hand-dyed yarn or it's been bleached by the sun... She also sent a tube of Suave hand lotion in a nice fuschia colored tube! It smells really fruity.
Thank you, Maggie!