So much to share, so little time.
Loving books as I do, I happened to notice my library was having a book sale last Friday when I and the girls were driving by to take care of a couple of errands. Oh my, of course I had to pull in! When paperbacks are a quarter and hardbacks $.50, I knew I had some change that I could blow on some books. I got quite a few to list at
PaperbackSwap.com
. In two days, I had requests for 5 of the books! Not all the same person requesting unfortunately (it would save me money on postage if that had been the case). Another book was requested Sunday, but it was one I wanted to read first! So after the children were in bed Sunday night, I sat down with the book "Home to Italy" by Peter Pezzelli and read it in about 4 hrs. I thoroughly enjoyed the book! It was a sweet, easy read, and I loved how smoothly the story flowed. There were times reading the book when one could easily tell what would happen next, but there was a surprising twist thrown in the end that I didn't expect! I was afraid that the story was going to end in tragedy, and I CAN'T STAND those sort of endings!
I loved the book, however, and if you want to read a human story that just leaves you crying and laughing, too, you should pick up this book. I loved the humor peppered throughout the story. And I must say that it made me romanticize Italy even more than I already did.
Plus I want to eat more olives!
A great story for being Peter Pezelli's first novel.
And so now I must let the book go to the PaperBackSwapper who requested it. Had I read this book first, before having listed it, this probably would be a book that I would keep in my personal library. It's a Keeper.
Over at Swap-bot, we just finished the Secret Sister swap. I had a great "sister" that spoiled me for 5 weeks! Every week there was something in the mail from her! She was very attentive to my likes and sent me things that had to do with butterflies, green frogs and dragonflies! She also sent me a bar of french-milled soap in my favorite scent of "Peony". I love using it each time I'm in the shower! Her final package was spectacular. she wrapped everything and even had goodie bags for my 3 children! I actually received her box on Monday last week, but had had a long day having gone to see the President speak along with others of our state Government during a rally for a candidate for Congress. I had not eaten all day or had anything to drink for 5 hrs that by the time the 5 of us ladies did sit down to eat, I was too sick to eat! I ate a little bit and then had to stop as I didn't know if I wanted to pass out or throw up! I figured it was really just feeling sick from not having drunk anything since I left the house around 7 that morning nor having eaten, but I must admit when one of the ladies asked me on the way home if I could be pregnant, there was definitely a "pregnant" pause....I was surprised at the question for some reason, and finally I burst out laughing! I don't know why I found it so humorous, but I just never considered it! And certainly it might have appeared that that might have been the reason I felt so sick and didn't want to eat. But I had never even thought of it. And though anything is possible, I don't believe that is the reason for my sudden illness. It really had to just be the lack of nutrition and hydration.
When we finally arrived to my house, I intended to just go inside and lay down and sleep the headache off and the illness. But we had company when I walked in so I sat and chatted for awhile. Then when our company left, I headed for the bed again, but something else detained me. I noticed the big box waiting for me to open in our stack of mail, but I didn't even have the energy to open it or enjoy the process. So I put it off until I would. I eventually made it to bed a few hours after I'd gotten home. And I woke up feeling a little better. It wasn't until the next day that I opened my "Secret Sister's" boxie. And then when I opened it, everything was wrapped so prettily that I felt I had to take a picture first. But then I discovered my camera was dead. But I knew I wanted to share how pretty everything was, so I did NOT unwrap my gifts yet! I let my camera charge! ha ha! And still it was another day before I had a moment to take my camera, snap a picture, and then sit down and unwrap everything. My girls were just as excited as I was about unwrapping everything, but I told them that this time they had to watch 'cause I was going to do the unwrapping. So they watched. Their hands jumping to touch the papers and the other wrapped gifts still in the box. At one point Kelley discovered there was a bag in the box with her name on it. Then she discovered Jessica had one, too! TJ, too! I was thankful that there was something to take their mind off my goodies and get their hands out of my package!
I discovered that my Secret Sister was Christel. She is a talented artist and a great "Sister". I loved everything that she sent. I leave you a picture of it all, including my two girls who just had to have their picture taken, too. ;) )Oh, and disregard that date on the picture...my silly camera!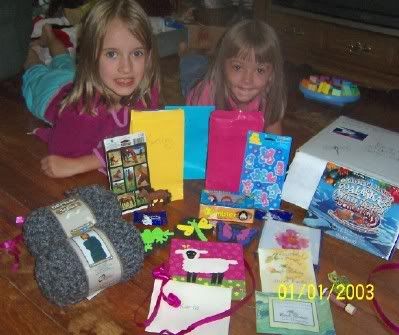 I'll write more later, but I'm just so tired right now. Til then...Ciao!