Yesterday's mail brought a wonderful surprise from my SP9! I thought it was a magazine, and in a sense, it was. My SP sent a Patternworks catalog to me. AND a Gift Certificate!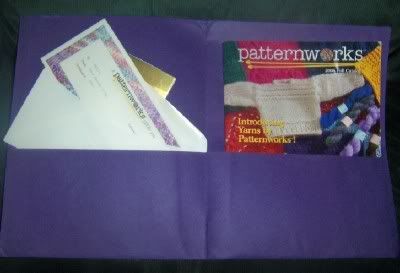 Wow! I have never ordered from Patternworks before but love to browse through their catalog...always "oohing and ahhing". This was really a nice treat. I haven't ordered anything yet...still browsing. But I'm leaning towards some cotton, and maybe one of those "yarn and knitting needles" rubberstamp...
Thank you SO MUCH, SP! You can send a gift certificate ANYTIME! And wouldn't that make it easy on you?! THANK YOU, THANK YOU, THANK YOU!
The President
In other wonderful news,
I have the opportunity to see the President of the United States, George Bush
, tomorrow morning!
Last week, my neighbor asked me if I wanted to go see the President Monday.
"President of what?" I asked absentedmindedly.
"
THE PRESIDENT OF THE UNITED STATES
!" she exclaimed.
"Oh! Well, sure. I guess. Let me talk to Tommy about it."
So later I get home and relay the conversation to him, really kinda casual about the whole thing and really thinking we wouldn't be going. Who would watch the children? Plus I was watching my neighbors' niece during the day.... Tommy said I could go and he'd stay home and watch the children. Yeah, that sounds nice, but it wouldn't be the same without him with me. So I'm leaning towards the fact that we wouldn't be going. But all of the sudden it hit me.."Hey.
KARLA.
Helllllloooooooo.....
Do you realize you have been invited to see the President of the United States of America???
The President of the United States!
When will you ever get this opportunity again? It may never come again!
HELLLLOOOOOO.....!!!!!
" And then it hit me. And I told hubby "Well,
duh
, what am I talking about? Sure I'll go! I may never have the chance to see our President again, and certainly not this one as this is his last term! Goodness,
WHAT
was I thinking? To even hesitate when the opportunity has been handed to me!" I'm slow sometimes. What can I say.
So I told my neighbor I was going! And I have a ticket in hand! And I will be seeing him here in Georgia TOMORROW! Wow! I may not get to see him up close or shake his hand, but I will see him in person and much closer than a TV set! Of course, I would LOVE to be able to shake his hand. I'd tell him "THANK YOU! Thank you for being our President these past years. Thank you for taking on such an awesome responsibility. I know it is was not easy, but thank you for stepping up and having a part in the direction this country and this world is going." I'd say that to any President because what an awesome job for anyone to undertake. I certainly wouldn't want to be in those shoes. Can you truly imagine the responsibility? The world would truly be on his shoulders and it would not just be a cliche. Wow.
So! I'd better empty my digital camera and have it charged up and ready for tomorrow! And trying to figure out what I'm going to wear... (laughing out loud) Well! Can you BLAME me?!
Gotta go for now! Got more news to share about this and that but I'll have to wait.
Ciao for now!