Today's mail brought a Priority Mail box from my SP9! My daughter Kelley retrieved it from our mailman and when she brought it to me she was sliding its contents back in forth in the box by tilting the box one way and then the other and saying "Mom, do you think it's a book?" Of course, I had no idea since I hadn't been given the box yet! Haha! But when I did hold the box, I found myself doing the same tilting game she had been doing. "It sure feels like a book, Kelley!" Then I casually predicted "I bet if it's a book that its the Happy Hooker Crochet book!" (I jokingly predicted that particular book because that is the book I've been wanting the most lately. I checked it out from the library, and after looking through it, I decided I HAD to have this book for my personal library here at home.) So with two little lambs sticking as close to me as my shadow, waiting for me to sit down and open that box, I sat down and proceeded to open the box.
What fun! There were lots of patterns in protective sleeves and goodies that were wrapped in Christmas paper! Ok, I hope my SP9 didn't expect me to wait until Christmas to open them...cause I didn't! How could I with those 2 eager pair of eyes and their 2 pairs of fidgety hands just itching to tear into the wrapped presents? TJ was right there, too, just not as pathetically eager as my 2 girls. So I told them "Wait! Wait! I have to get a picture of it as it look fresh out of the box first!" So they did the obligatory moaning..."Awwww!", put the presents down, and I quickly clicked the shutter before their greedy hands grabbed for them again. Hey, who was this package for anyway!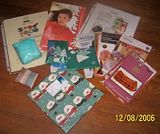 As you can tell, there was one package that looked very much like a book. I grabbed it up, hoping, hoping, hoping....while giving each of my children a package to open up, too. Jessica found a very adorable floral tape measure (which was ironic as she was just asking where my other tape measure was when her brother TJ had my Sheepie tape measure. She wanted one to play with too!) Kelley opened a little package that contained a cute little sticky sheets pad of the letter "K". I have seen these in a larger format, but never these cute little letters, and never sticky! I love it! Then TJ opened up a sweet Rose fragranced round-shaped soap. Mmmmmm...smells so good. Then there was another gift of 2 self-stick notepads in a snowflakes and ornaments theme. And last but not least...there was a book! I SQUEALED when I saw the familiar Tiffany-box blue color of the top half of the book and then saw the title..."The Happy Hooker" by Debbie Stoller! Whoopeeee!!!! I just love my SP9! It's been a hard few weeks personally, and this was just a wonderful package to receive. Thank you, SP9!!!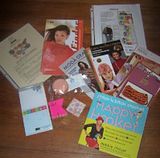 If some of you remember, my SP9 sent me this in my first package last month....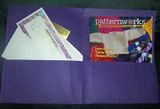 Well, this is what I used the Patternworks Gift Certificate for!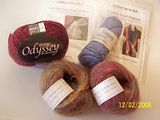 In other news, these are some stitchmarkers I've been making for several exchanges. You can click the photo for a closer look.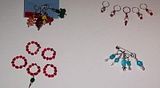 I've also received a few!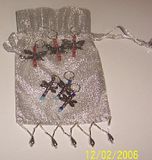 These came from Kim Y. for the Sep-Oct Exchange 2. Before I had even received these, she emailed me asking me to send them back when they did arrive because she had just received her first set of stitchmarkers and by comparing hers against them, she felt hers were not up to par. When I received these, I wondered what sort of stitchmarkers she had received to think these she made were not good enough! These were gorgeous! Even moreso because she catered to my love of butterflies and dragonflies! Don't you just love them? How could anyone think they weren't good? Sorry, Kim, but I hope you don't mind if I just KEEP THEM!
I've received a couple other sets, but I need to take a picture. Then I'll share!