I've been unintentionally neglecting my blog. A lot has been going on here, some of which I will share later. But right now, I had to share about today's unexpected mail delivery.
I received a brown box from someone whom I had never heard of and the box was heavy ($13 worth of postage - ack!) I wasn't expecting anything so I had no idea who could be sending something to me, much less spending so much postage on it. Curious, I immediately opened it and found some coffee cups, small bags of coffee and a canister of hot chocolate....OH! This is for Swap-bot's "
Coffee and Knitting
" swap! What a surprise! I had totally forgotten about it.
And to be truthful, I wasn't so certain I'd be receiving anything considering the number of bad swappers that had signed up for it and had been allowed to remain. Can you believe someone with 27 NO SENDS out of 28 swaps played was not banned from the swap??? Seeing something outrageous like that just makes me want to start my own swap and be VERY STRICT about who gets to play and who doesn't. And I might still start a swap over there, yarn related, like this one was.
Surprisingly, I received an awesome partner, Cera in Wisconsin! Look at what she sent to me! This swap called for a skein of yarn and up to 1 lb of coffee. But this lady sent 5 cups, one for each person in my family to have their own, and coffee (for hubby) and hot chocolate (for me and the children), candy canes, 2 skeins of Patons Classic Merino Wool in Red wrapped so nicely in yellow tissue paper, and a wrapped Christmas present for each of our 3 children! How sweet is that?! I was definitely overwhelmed with Cera's generosity.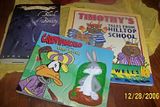 Thank you so much, Cera! The children loved their books. Kelley was so excited about receiving "Black Beauty" and asked if she could go read it now. Jessica commented how big (long) the stories were in her book, but she loved it 'cause I saw her laying down with it looking at the pages. And TJ, well he couldn't keep his finger from pushing Bugs Bunny and hearing Bugs "talk"! And books are always welcome in this house. Thank you so much for thinking of the children. It touches my heart that you did that.
Can you believe that all 5 cups made it through with no damage? You really packed them well with the styrofoam popcorn pressed firmly inside each up and all around them, too. Ironically, the candy canes you enclosed were broken up like someone had taken a hammer to them! I guess they took some heavy handling on their travels here and layed down their lives to save the cups! ha ha!
In other news, I had been crocheting some snowflakes over the past couple of weeks. I enclosed a few in Christmas cards I mailed, and kept a couple for myself. One that I spent the most time on really needs a heavy dose of stiffening as I can't get its "arms" to stay outstretched. I have a need of more pins to block these snowflakes properly! Meanwhile, here are a couple that I made that I have a picture of. I love these both very much but kept the one on the right, sending the top left one on in a Christmas card.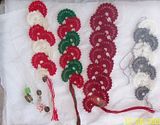 I've also been making bookmarks. Besides the two beaded "thong" bookmarks in the far left of the picture, I really like this "Fan Bookmark" and experimented in different colors. The silver and white one needs to have its ends woven in, but I wanted to include it in the picture to compare the color choices. Which color do you like the best?
If you'd like to crochet one yourself, you can find the free pattern
here
, courtesy of "
crochetroo
".