This post was created Wednesday, January 24th, but I forgot to post it and left it as a draft. But here it is, even if it is a little late.
Yesterday's mail brought a very fun package to my door. Now I've had a couple of packages come for the CLBFX, but my mind drew a blank when I saw the name and return address on this package. It was a familiar name. I remember exchanging emails with this person, but for some reason I couldn't figure out if this was for my Birthday or a different package. I didn't want to open it yet if it was for my birthday, you see.
After a moment or two, the lightbulb went on and I remembered. It might be a package intended for my birthday, but it was for
Ranee's
Colorswap. This was my January Colorswap package! Yet I remember Natalie having told me that she knew Thursday was my birthday...so should I open it now or wait?....(clock ticking...) My two girls said "
Yes! Open it now!
" They get as excited as I do to receive a package in the mail. But I said "
Naw, I should put it aside for my birthday...
" As a result of that declaration, they both "
Awwwww
"d with disappointment. It was so pathetic that I had to reconsider..."
Well, it IS for the Colorswap. And yes while she might have put something in here for my birthday, this is a Colorswap package and I'm supposed to open it when I get it, so yes, I'm going to open it now
." Smiles returned to their faces and squeals of delight filled my ears, and I knew I had made the right decision.
Our color theme for January was "metallic", and while Natalie tells me that it was more difficult than she thought it would be, I think she did an EXCELLENT job finding glittery and metallic things!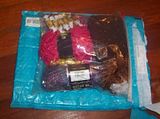 This is what I found, this plastic baggie filled with all sorts of yarny and shiney wonder....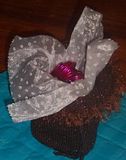 From the baggie I pulled out this.... It was a beautiful knitted drawstring bag in this chocolate brown color with a shimmery fun fur type yarn trim (reminds me of Bernat's Disco yarn). The bag was a gift in itself! But this bag was HEAVY! Look at the beautiful shimmery fabric peeking out of the bag. Inside were all sorts of glittery and shiney treats!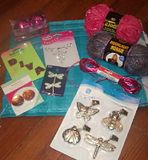 Here are some of the goodies....there was a box of "Bath Fizz" balls wrapped up in hot pink shiney wrapping to look like two pieces of candy; coppery-colored Shell Buttons; 3 packages of appliques - hot pink letters that spelled "DIVA", a glam iron-on silver design, and two silvery dragonflies; Yarn! (a skein of Caron Glimmer in "Carnation" and a skein of Lion Brand's Moonlight Mohair in "Coral Reef" - I love the strands of hot pink and other glittery shades that run through this predominately blue yarn); and some craft cord in hot pink/fuschia.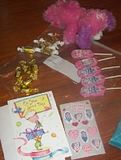 Natalie enclosed a cute birthday card with Valentine stickers enclosed. And candy, too! There were lollipops in flavors of white fudge, caramel and peanut butter; and Werthers Original caramels (the hard candy variety and the chewy taffy style). The pink and lavender puppy was my daughter Jessica's toy that she just HAD to have in the picture, too.

Also in the baggie there was a sweet little knitted bag in pink and lavender tones, also done in a novelty yarn like "Boa" with a second strand of something else...a pink yarn that reminds me of "Glitterspun". This little bag, also had a piece of glittery fabric peeking out, but inside this one was a stash of potpourri that smelled heavenly. I think this little bag will be perfect for me to carry to dinner tomorrow night when our Red Hat group gathers at a local restaurant. I'm not a Red Hatter yet (have to be 50 yo), but I am a "Lady-in-Waiting" (I like that charming title better anyway) and the colors in this little bag are PERFECT! It'll hold my driver's license, and some cash and a mint or some other little incidental. And there was another knitted gift in the form of a bracelet using shades of the pink in the little drawstring bag and also a more purple strand of yarn that looks like it might be chenille. Also perfect to wear during my dinner with the Red Hat Ladies!
I think I named everything she enclosed... Oh no! I didn't! How could I forget this! Natalie also enclosed a set of tablecloth weights which were in an insect theme. You can see them in the photo above. There was a butterfly, a ladybug, a dragonfly and a bee. All of these insects are themes that I love to collect in this 'n' that. And what really struck me about receiving these, Natalie couldn't have known this, but I've wanted for several years now some tablecloth weights! I never could find any though. To receive this unique item was really a treasure. I not only got some tablecloth weights but also in the form of my favorite insects!
I was really impressed with this Colorswap package, Natalie. You did an excellent job, and I really love EVERYTHING you thought to put in this package. I can tell that you really paid attention to my likes and tailored this package to things that I like!
Thank you!