How can you not think about Love when you see mail like this!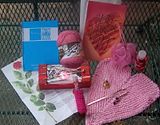 Joye S. sent these LOVEly goodies for the "Gotta Have Heart Stitchmarker Exchange" over at the Yahoo Group "
StuffKnittersWantandGottaHave_Exchange
". It is a Valentine's Day swap requiring a set of stitchmarkers and a dishcloth. Joye included all these items in her package:
strawberry shower gel and pouf;
crocheted chapstick holder keychain with a tube of Avon chapstick enclosed;
a small book of knitted patterns;
a bookmark with beads like the ones with which she made the stitchmarkers;
a ball of pink cotton;
a pink heart-shaped knit dishcloth;
a Valentine's Day card;
a sheet of stationery depicting a long-stemmed red rose on which she typed the patterns to the chapstick holder and the heart-shaped dishcloth;
a gorgeous red box which held two Peppermint Patties, glass Ladybug beads, and a set of stitchmarkers beaded with red hearts made from clay; and Hershey's Kisses with Almonds scattered throughout the package!
Here are the bookmarker and the stitchmarkers in more of a "close-up" photo...they're just so lovely, I had to show you!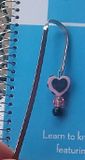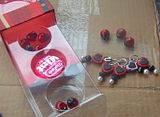 My children loved the package as much as I did, especially the Hershey's Kisses! I will take a bag of Hershey's Kisses anytime! The ones with Almonds are my FAVORITE with the plain ones running second. Thank you, Joye, for such a fun package. I'm definitely in the Valentine's Day spirit with all these themed goodies!
For this exchange which I received from Joye, several of us are doing a KAL from the
Dishcloth Hangups for 2007 Calendar
(and some of us [read: ME!] are TRYING to follow along having never knit a cable before!) but any knit dishcloth is fine for the exchange. Of course, we want to think red, pink, purple, hearts, anything Valentine-themed. I'm trying to knit-along on the February cloth, "Hearts Desire" designed by
Maile Mauch
, but have had to
tink
several times because I just haven't been able to get the hang of the cabling. I'm about to put it aside to try my hand at the cloth Joye sent to me since she included the pattern. I do have a deadline to have my packages to my two partners by February 14th and at the rate I'm going, that's not going to happen if I don't catch on soon or knit a different cloth! I can practice the "Heart's Desire" after I've at least made a dishcloth in a different EASIER pattern for each of my partners.
Oh and if you want to get yourself a calendar full of "Kitchen and Bath Items", I understand by the above link that the absolute deadline to order is February 20th. I received one as a gift and I really like it. You can read more about it
here.
Also for some free dishcloth patterns, Maile has a whole bunch of beautiful knit dishcloth patterns on her
blog
. Check it out!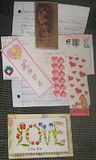 Over at Swap-bot, I received my first of three postcards for the "Love Postcard" swap. I was pleasantly surprised to see an envelope in the mail from my good friend,
Juli
. Swap-bot being a world-wide swapping venue, it's just a wonderful surprise to be randomly partnered with a friend! Juli sent bookmarks, stickers, a Valentine's little card, a letter, and a USPS "LOVE" postcard!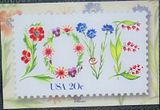 I LOVEd everything but ESPECIALLY the postcard of the USPS "Love" Stamp! I collect the Love stamps that the USA has put out since the 70's I believe and to see this postcard in my mailbox brought me such joy! Juli didn't know it, but this particular issue of the LOVE stamp is one of my favorites of all that our postal service has issued over the past 30 years.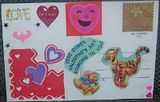 And look how she decorated the reverse of the postcard!
I immediately called Juli on the phone after receiving her postcard today and asked her if she would mind picking me up a few of these postcards at her post office. My post office doesn't carry anything like this! If any of you have a post office that sells postcards, especially LOVE themed, I'd love to hear from you, too! Do other countries have LOVE stamps? Here in the USA it has become an annual issue, a Love-themed stamp around February 14th. This year the stamp issue is a "Hershey's Kiss" stamp! You just KNOW I'm going to have to buy some of those when I can. Love
AND
Hershey's? Oh yeah!