Ok, readers, my birthday post! I know some of you have said I have been keeping you in suspense, but I promise it wasn't intentional! It takes time to sit down and make a post and spare time has been fleeting for me since the week of my birthday. But without further ado...
Thursday, January 25th, was my 39th birthday. I opened my presents soon after midnight! ha ha! Well, I was up and hubby had come home after being out late taking care of our friend, and my daughter Kelley had been pushing me to open my presents for days! So I told her I'd open them after midnight after she was in bed! And I did!
SP9 REVEALED!
First, my SP9 was revealed.
Judy
in Cleveland, Ohio sent me this great book "Just Scarves" by LionBrand.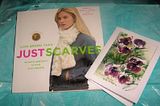 I've been wanting this book and am now the proud owner. Thank you, Judy, for a wonderful birthday present, beautiful birthday card (I loved the watercolor phlox), and for a wonderful SP round! You know, I had JUST visited your blog from the SP9 blog (I was blog hopping among the participants blogs) and when I saw your blog, I had the thought that you might be my secret pal just because of your location. You used your return address and your blog indicated the same area of the country so it left me wondering. I'm happy to know that it was you!
CLBFX!
Next were three packages from my partners in the Crochet List Birthday Fun Exchange!
This package arrived a few weeks before my birthday and I had to WAIT for DAYS before I could open it. Janet S. decided to send me something from
Maggie's Crochet
and I was so excited at the prospect of opening that! I've wanted to order from Maggie's Crochet in the past, but I never have. So I was anxious to discover what Janet had sent to me. Well here it is!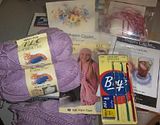 In this package were 4 skeins of TLC Cotton Plus in Lavender, a free pattern sheet for a scarf and hat made with this yarn, a set of 4 Boye hooks and traveling scissors, a kit to make Victorian ornaments, a pattern sheet for coasters, and a beautiful birthday card. This package could not have arrived (or rather been opened) at such a perfect time. The evening of my birthday, I was planning on attending our town's Red Hat Ladies' gathering at a local restaurant. Being a lady under 50, I wear the group's red and purple subdued colors which are pink and lavender. Well, during the month of our birthday, the birthday lady(s) have to wear their colors in reverse when we gather. So I needed to wear a lavender hat instead of a pink hat. Unfortunately I had no lavender hat! Not to despair, though. I'm crafty! I can probably whip one up....Only I never could find the right yarn in my stash to create a hat. I settled on making a headband in lavender and found something in my stash. But when I saw this TLC Cotton Plus that Janet sent, I knew it was PERFECT! So I grabbed one of the new hooks and a skein of the cotton and settled down to whip up a headband.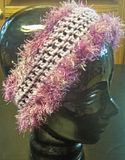 I did whip one up, but wasn't totally satisfied with it, and wanted to make one that had more of a solid stitch, like sc or sl st. So I began another one. A few rounds and I knew I'd never get it over my head! ha ha! So I set it aside to finish for my daughter later and began another one in a bigger hook and more chains. But because I was making sl st and sc's, it was taking much longer to get a headband made. So I stuck with my first creation and wore it to dinner with the ladies!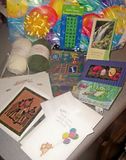 This festively wrapped present was from Roberta S. I loved having a present to "unwrap". Inside I found a plastic zipper bag full of goodies. There were 2 skeins of Knit Picks wool (looks perfect for felted flowers!), a package of alphabet stampers, a sheet of large and FUN alphabet stickers, a sheet of stationery with matching envelope, a blank card with matching envelope, a birthday card just for me, and 3 blank postcards.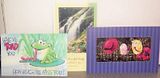 It did not go unnoticed, Roberta, that you sent postcards depicting things I like...waterfalls, green frogs, and the hats...that made me chuckle. It reminded me of the RED HAT LADIES I belong to! My PINK hat is even pictured. That was great, Roberta. As I pulled each of these items out, I thought to myself how you really picked out things that were ME! Thank you, Roberta. All these goodies made me smile big.
Alicia drew out my birthday as her package came on Friday, the day after my birthday. I loved having ANOTHER package to open.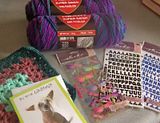 Enclosed I found two skeins of RH yarn in beautiful variegated jewel tones, a crocheted granny square, a birthday card that tells me that it's my birthday "so get wild" (notice the totally hairless dog who did the wild thing and left the hair on his head long...or is that a toupe?), and STICKERS! She knows that I love DRAGONFLIES! And I can always use Alphabet stickers! Thank you, Alicia. I loved everything!
So that was my 3 gifts for the
CLBFX
. But my birthday did not end there!
I received this RAK in the mail before my birthday from a fellow scrapper in
ScrappinStars
. Nancy S. sent this package of 3D stickers that "change" their picture as you move them. Thank you again, Nancy! What a nice surprise.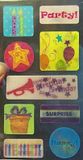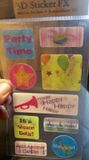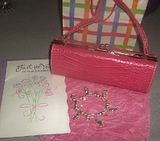 My sweet neighbor Dale, a Red Hatter, presented me with a gift bag on our way to the restaurant for our groups gathering. I read a beautiful birthday card first. Then I pulled out this very cute PINK purse. I don't think she had known that I'd seen these little purses in the stores and just fell in love with them. I never bought one for myself, so I was very happy to accept this one!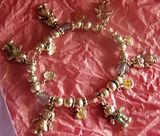 Inside the purse was a pink tissue wrapped present...it was a charm bracelet like the one I had been admiring on her own wrist a few days before! It is so cute with little children charms and sunshine, and smiles. She said since I liked hers so much she bought one for me, too. I love it!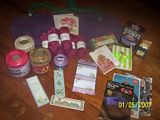 And we can't forget the birthday gift from Juli which I opened BEFORE my birthday...well, hey! It was included in the Tote and goodies she sent to me for the Fall Tote Swap, so I HAD to open it. I didn't want to open it (not), but I had no choice! Thank you again, Juli! I loved the yarn, thread and the beautiful birthday card you enclosed, too!

From my hubby, I found a Gift Certificate for a manicure and pedicure at a local salon. Now this is nice as I've never had a pedicure before. I'd love to be pampered a little with a manicure and pedicure. Thank you, Honey!
I can't end this post without including an unexpected gift from a partner over at
Swap-bot
. I received a puffy envelope in the mail on Thursday, a week after my birthday, from the "Make a Friend" Letter Swap over at Swap-bot.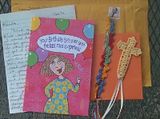 In this swap, we were simply to write a letter and include a little something we made to our assigned partner. When I opened Brenda C.'s puffy envelope, I simply found an orange envelope inside with my name on it that looked like it might have a card inside. And there was...a fun Birthday card picturing a woman on the front saying: "Your Birthday isn't over until the last card is opened...(and inside) Now it's over! Happy Belated Birthday!" I laughed out loud when I read it and it was really just a sweet surprise. There was also a separate handwritten letter enclosed within the card and two beautifully crocheted bookmarks which Brenda tells me is the beginning to her comeback to crochet. What a wonderful start, Brenda! I absolutely love them both, the simple elegance of the cross bookmark and the bright festive colors of the bookmark strip. Thank you for a wonderful ending to my birthday!
And since I'm on the subject of bookmarks, let me go ahead and show you the bookmark that my partner in the
CLBMX
sent to me. I've been in this monthly exchange for over 2 years now, I believe, and I find it has a strong pull on me to remain.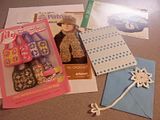 I love to read and love to receive a new bookmark every month, and make one for someone else. For the month of January, Theresa G. sent this gorgeously crocheted Snowflake bookmark in addition to a blank notecard and envelope, free pattern sheets, a recipe for snake cookies and a letter telling me about herself. Theresa and I have partnered before in this exchange and I always love to receive her bookmarks. Isn't this one beautiful!