The power just went off here and deleted everything I had typed in my newest post...you see why I haven't been posting much lately...there's always something to deter me! But I am back to try again 'cause I know you all have missed lil ole me.
As I was saying before my post was zapped, I received a package for the "Dollar Store Swap" over at
Swap-bot
today, and I was really pleased by it.
Marcia
in Pennsylvania seemed to really know me as everything she picked out was something I would have picked out, and in two instances, actually were!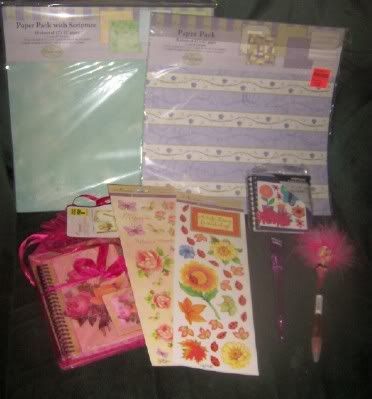 Marcia wrapped everything and made it so fun. Even my 5 year old daughter had to join in on the unwrapping. The first thing I unwrapped made me laugh out loud. I couldn't believe what Marcia had sent to me. It was a pretty fuschia drawstring bag which held a stationery set (paper, journal, pen and magnet). I laughed because this was the EXACT colored bag I had seen in our dollar store and which I would have picked out if I had bought one for myself. As it turned out at that time, my daughter wanted her own, a purple one, and I bought a gold bagged set for a friend's package. So I decided to come back at another time and try to get one for myself in the fuschia color. However, now I don't have to! I still can't believe Marcia picked this out...
She also picked out a cute little scrapbooking kit booklet which is the exact one I have bought for myself before. But no worries about having another one! I LOVE these mini-scrapbooks and always try to get one when I see them. But again, Marcia picked out the same one I have picked out.
The other things were new to me, but SO ME! She sent butterfly stickers, ladybug stickers, two pens - a purple one which I let my littlest girl have since she loves purple, and a too cute, frazzle-haired girly pen which I am keeping for myself as I love it! - and two packages of 12x12 scrapbooking paper with inspirational and biblical quotes on them. I had not seen these before but I love them and would have picked them out myself if my store carried them.
Thank you again, Marcia, for a great package. You really impressed me with how well you chose Dollar Store items according to my likes.
This swap was also a nice pick-me-up today. I was given my first 3 rating over at Swap-bot but with no explanation as to why. (Ratings are 1 for Not Sent, which probably should be changed to Not Received, 3 for Received but not within the requirements of the swap, and 5 for Received and within the requirements of the swap. There's also a "Heart" you can give if you rate your partner a 5 when you feel they've gone above and beyond the requirements of the swap.) The girl I was to send to has never responded to any of my posts or emails and I'm left confused as to why I received a 3 for the "Mini Wishlist" swap. I sent her things from her list, which I found short and vague, so it wasn't easy for me to figure out what she wanted. I sent her more than what was required AND spent $10 to ship it across the country to Oregon. However, I've had bad vibes about the girl from the beginning so maybe I detected something without quite knowing what it was. Even before I sent it, I wondered if I should send her something so nice as I was doing, and even had the thought she might give me a poor rating. Guess those sensory perceptions were correct. It's not that big of a deal, but I hate that I spent so much time and money trying to satisfy her hard-to-satisfy list and then get a poor rating like that. Makes me want to tell her to send it all back! ha ha ha! But really, I would've rather have gotten a rating of 1 for not sending than to not get any appreciation at all for what I did do. She hasn't even emailed me to say "Thank you for the package." Or "The package arrived." Oh well, there are good swappers at Swap-bot and then poor ones. Then there are poor recipients with no knowledge of etiquette... goodness, post a 'Thank you' somewhere already.
Ok, I'll go away and calm down now.... ;-)