Here are some other swaps at Swap-bot that I've received over the past month.
LOVE POSTCARD
This was the second postcard that I received for this swap. I really loved this postcard along with the first one I received. I never received the third one for the swap, but I don't miss it too much because I received two wonderful postcards.
PAPER SNOWFLAKES
These were the paper snowflakes which I made for my partner.
However, I have not sent them to my partner because she has 2 "No Send"s out of 3 swaps done. I thought there was a chance she might not send to her partner, so I decided to hold mine to send to her partner if her partner never receives from her. I have felt sick about sending my packages to reneging swappers (though I guess you can't really call them 'swappers' if they never send a swap!) so I have decided to be a little more alert to those I'm assigned from this point forward. I'd much rather take a 1 rating from a bad swapper, which I haven't had to deal with, than to send a great package to a bad swapper who doesn't send to her partner, which I have dealt with.
I had fun making these, and my girls made some, too, though not pictured here. I even took the foil wrapping from Hershey's Kisses and made a few snowflakes with them! That was interesting to say the least. Very fragile snowflakes. But also very pretty.
I received some paper snowflakes for the swap, but I'm not going to say anything about it except that the person's child made the snowflakes instead of the adult swapper... I was disappointed that the swapper didn't send some that SHE herself made, too.
MINI WISHLIST
I loved what my partner sent to me for the Mini WishList swap. I loved everything...stationery, origami paper, yarn, beads, buttons, and used postage stamps! A great swap!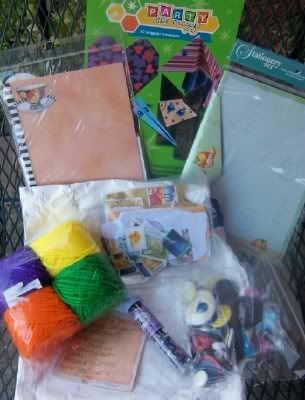 BUTTERFLIES ARE FREE - ALMOST
Another great swap, the "Butterflies are Free - Almost" swap. One of my partners sent to me the required "handmade" item in the way of a stamped tag with lovely fibers as the tassel. She also sent vellum butterflies and leaves, butterfly stickers and butterfly charms. A WONDERFUL swap!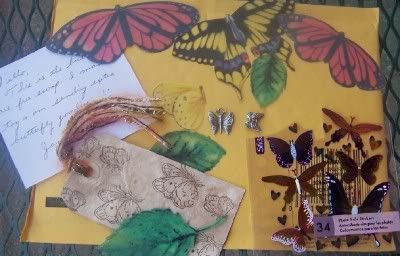 The coordinator let me know that the other person assigned to send me something has left Swap-bot and deleted her profile. This is someone to whom I've sent who never acknowledged receiving or thanking me for it. Ugh. Thankfully, someone else will be sending in her place. Hopefully the person who was assigned to send to her is just sending to me, her partner, instead. This is great that this swap worked out this way 'cause not all of them do, where you receive even though your partner reneged. So I am grateful.