Hmmm...is it "bookmarks" or "bookmarkERs"? I can see either word used, but which word do you use to describe an item that keeps your place in a book?
I'm a member of a Yahoo Group called
Crochet List
. I've been a member of it since 1996, I think, or thereabouts. Wow - that's a long time. Within the group, there are exchanges that members can join and one of my long-time favorites is the Bookmark Exchange. I've made a lot of bookmarks over the years and have received a good many, too. I always love to see what kind of bookmark will land in my mailbox each month. Even after all these years, I rarely receive a bookmark just like a previous one. Of course, there have been times that I've received bookmarks made from the same pattern, but everyone lends their own color and style even to those so that each one is still a unique bookmark. It's a really great exchange and if any of you are interested in
joining
reading more about it
, check it out
here
.
I have been reminded, however, that one has to be a member of Crochet List to join any of CL's exchanges, such as this Bookmark Exchange. If you enjoy crocheting and aren't already a member of CL, be sure to read more about it here. It's a great community.
January's exchange found this lovely creation from Joan P. in my mailbox, along with some extra goodies, a pink fuzzy pencil and a sheet of ladybug stickers, along with a sweet note. (Thank you again, Joan!) When I first saw the turquoise bookmark, I thought the style reminded me of a "Sampler", a piece incorporating various stitches like the traditional cross-stitch "Samplers". However, Joan has a cuter name for it and that is "Doodle". She just made it up as she went, like a doodle! Isn't that cute? It turned out very pretty and unique. I can tell you that I won't get another one like this from another exchanger...this is all Joan's creation!
Joan was the partner to whom I was assigned to send, and after reading that one of her favorite colors is yellow, I made a bookmark from one of my favorite patterns and in yellow thread. I'd love to share the pattern link with you all, but unfortunately I cannot find it online anymore. It was from the magazine "Fast and Fun Crochet", the Spring 2002 issue, but I understand from my searching on the internet that the magazine's last issue was the Fall 2002 issue. Thankfully, I had printed out a paper copy of the pattern back when it was easily available online. It really is one of my favorite bookmarks. So much so that I made another one at the end of January!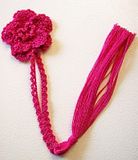 With bookmarks on the mind, here is a collage of bookmarks I've made over the years. Not all of them, of course, but some that were lucky enough to get their picture taken before I mailed them off. (Hover your cursor over the picture to read about the picture. Also click on it for a closer look.)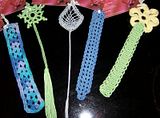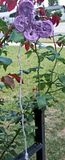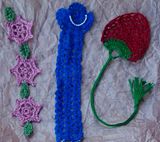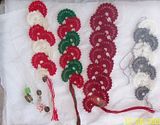 And here is a collage of some bookmarks sent to me through the years.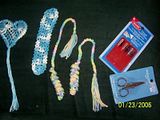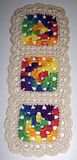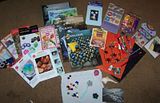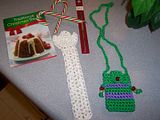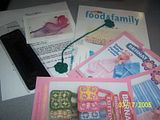 I hope you enjoyed that Bookmark Extravaganza! I did. It brought back fond memories pulling together pictures of past exchanges. And through the photo journey I realized that Joan P. and I have swapped several times over the years. Did you notice that YELLOW Butterfly bookmark up there? Yep, that was one I crocheted for her. Her color preferences haven't changed I see.
For this month's exchange I've been paired with a lady I've not exchanged with ever before! Won't that be a sweet treat! Get ready Sue P.!