Today's mail brought a lovely package from Sue P. for the Crochet List Bookmark Exchange.
I just LOVE that heart bookmark she crocheted! Isn't it beautiful?! Sue also enclosed some candy hearts, a package of mint-y hot chocolate, a flowered planner book, and two pattern books. The yarn puppy on the cover of that one booklet is too cute. I can't wait to make that!
Here's a close-up of Sue's beautiful bookmark.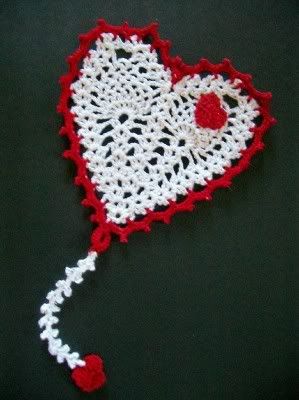 Thank you, Sue!
I've made a bookmark for Sue, also, but I'll post a picture later as I don't want to ruin any surprise. But be ready! I'll post soon!