Look at these beautiful crocheted bookmarks that I received in September, and also this month, for the Crochet List Bookmark Exchange!
In September, Marilyn crocheted this beautiful lace bookmark with an ivory ribbon running through the center. It is gorgeous! Interestingly, the bookmark I had been working on for her was very similar, a lacy bookmark with a ribbon running through its center! Mine was not as wide as hers, but I guess we had similar thoughts on what to make for each other. (These pictures are clickable for a larger image.)

For October's exchange, I received this adorable bookmark from Jessie...a golden three-dimensional pumpkin!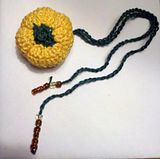 If you'd like to join
CLBMX
, you need to be a member of the
Crochet List
. Then you can find all the necessary information there. It's a great exchange and you rarely get the same bookmark twice. And even if you do, they're all still different!