I have been caught. I'm sitting in the back of my Aviator (aaaalllll the way in the back) with the windows down and enjoying the fact that I've caught a hotspot in the air for my laptop. Ah, some peace and quiet and time on the computer. It's been awhile since I've been on a real keyboard and not my phone's qwerty slideout with those teeny tiny buttons. I'm thankful for that phone keyboard, don't get me wrong! But there is so much more freedom and quickness in typing on a REAL keyboard!
So I'm sitting here in the back of my car, and my neighbor comes out to her car, but she's able to see straight into the passenger window to me sitting here in the back. And she laughs! "What are you doing?!" she asks between laughs. "Are you hiding out?" A tad embarrassed, but knowing she really knows why I'm back here, I tell her "Yeah! I found a hotspot for my computer!" She stands by the open window telling me that she saw a program on TV where a mother would go out into her van just for a "time-out" from the children. I'm sure I was blushing profusely as I could feel the warmth in my cheeks. "Yeah, I'm getting some time alone." She was still laughing as she walked away to her car.
Now she has come back and peeks in to see I'm still here and asks "You mean they let you stay in there that long? Or have they just not found you yet?!" "I don't think they've found me yet!" I replied. Rather, I hear them playing and shouting in the back yard. I don't even know if they've noticed I'm gone, and by now it's been an hour that I've been soaking up this precious ALONE time! So I'll just keep typing away until I'm discovered...
Today I sent an amigurumi to a swap partner. My children were sad to see it go. I crocheted all the parts (head, body, arms, legs, tail, ears) but in pieces they didn't look like much. But in a night I assembled all the pieces together and here he is.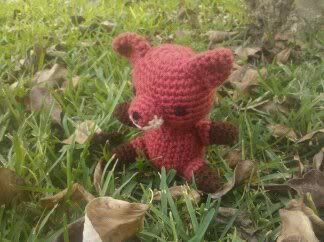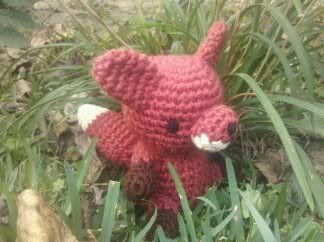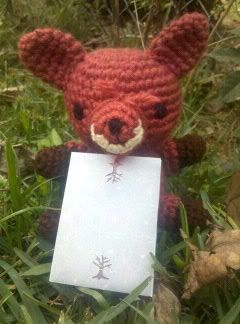 I call him Tod. You know, from the movie "The Fox and the Hound". But of course his new owner can name him what she'd like. It might even be a "her" to her! For this swap I also had to include a "Profile Card", which I've never heard of doing or have done, but I think I did ok by naming a few of his favorite things and even a Pet Peeve (Hunters!)
I hope
Sarah
, his new owner, loves him. She likes foxes according to her profile. Or is that "fox"?