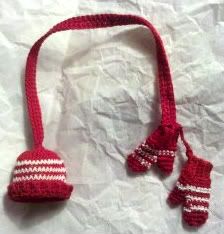 Here are photos of the bookmark I made for November's CLBMX. For that month we were to send a bookmark and a little something extra. I chose to make a bookmark similar to one that I had made a previous year for this same exchange. It's a hat and mittens bookmark!
The pattern for the miniature hat and mittens is online
here
. After crocheting each individual piece, I created a crocheted band, affixing the hat on one end and the mitten set on the other.

Some of my readers might remember the first one of these bookmarks I created. I loved adding the snowflakes! They were crocheted with sewing thread which is how I managed for them to come out small enough to use in a bookmark. I gave this in a "Christmas in July" exchange back in July 2005...I can't believe that was almost 6 years ago! It seems like yesterday!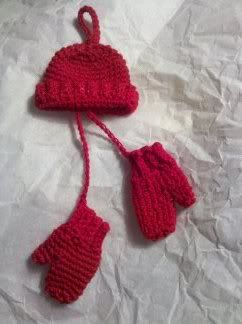 For the "little surprise" part of November's CLBMX, I crocheted another set of the hat and mittens and assembled it into an ornament! Cool, huh?