My blog has been so enjoyable for me to update over the years. It seems ever since my last child was born back in 2009, and even before then, my blog has been neglected. It's a wonderful outlet for me to express myself, however, so I want to get back to it. So here we go!
I use Photobucket to store most of my pictures for online use, and after organizing them, I noticed several of my pictures here on Blogger were missing. It was simply because I had moved the pictures into new folders, but still, that breaks links. So I've been spending some time putting the correct link on the lost pictures of several blog posts. And boy, is that time-consuming. It is something one doesn't want to really do while the whole family is around and pulling you in different directions with their various needs. So I took a "mommy-break" and came outside to my Craft House to get some peace and quiet. It has helped a lot!
I noticed on my blog that I've talked a lot about the Crochet List Bookmark Exchange. There are quite a few posts about bookmarks I've received and made! I have been doing other things in these past 3 years, too, but I still love a bookmark project. In fact, here is the latest one I received for the April exchange!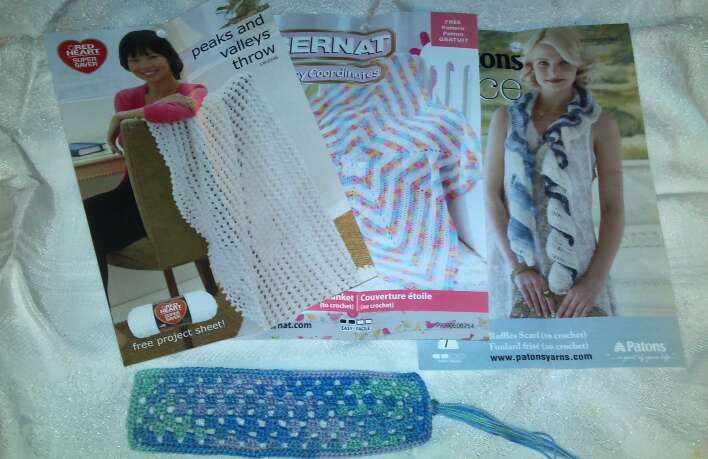 Jessie sent this lovely variegated blue bookmark and three freebie patterns. I love this thread she chose and the bookmark will lay nice and flat in a favorite book.

This is the bookmark that I made this month for her. I have been in the mood for flowers, and therefore, a crocheted flower sounded so pretty. I crocheted the flower and then just created a double-crocheted "stem". The stem was supposed to lay flat but for some reason it curled on itself. I actually liked the curled effect better than the look of the stem flattened, so I left it curled. It won't lay flat in Jessie's book, but hopefully she will still love it. :)
Back to my blog, I updated the template to it, which I like just fine. But in the process I've lost all those lovely links I had in my previous template's sidebars. I am looking forward to spending some time freshening up my page with new (unbroken) links and hope it will look just as nice as my older version. I'm looking forward to seeing old friends here and meeting new ones!