I found this post I drafted last year which I never posted. So I'm posting it now, a year later!
From March 2011...
I wanted to share with you the two bookmarks that I've received in the past two months. They're super cool!
This first bookmark was from Maria Lits for the January 2011 CLBMX. Her first bookmark was lost in the mail or is being enjoyed by someone else, but she said she thinks this second one turned out better. I don't know if it's "better" or not, but it sure is wonderful! I love teapots and teacups, and I love the color pink. And isn't it sweet how she incorporated letter beads to spell out "tea"?

The second bookmark was for the February 2011 CLBMX and was crocheted by Kurt Decker. Now I haven't swapped with Kurt before this exchange though I've been with the CLBMX for years! So this was a treat to have a "new" partner. His contribution left me laughing hard. First of all, when the mail arrived, I saw this looonnnnggg handmade brown cardboard envelope and it left me asking "What's that?!" When I saw it was from Kurt, I thought "Cool! A bookmark!" Still wondering why the supersized envelope, but hey, I was determined to open it and find out!
I was laughing as I slid out this loonnnggg red thread bookmark. Seems the pattern Kurt used online called for size 10 thread, but this filet rose pattern is really big! It could almost be used as a wall decoration! I LOVE it, though. It's just the BIGGEST bookmark I've ever received. And I needed the laugh. Thank you again, Kurt!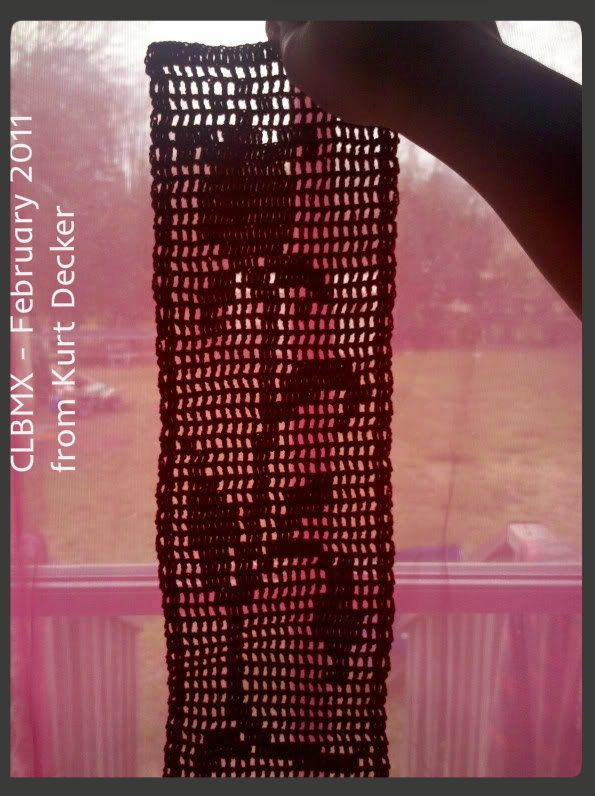 Kurt's going to let me know where he found the pattern online. I would like to crochet this myself. But I think I will use Size 20 or Size 30 thread. ;-)