Well, it's another Saturday night...but I got somebody!
Been working on my blog. I'm getting the hang of all that html coding. I hope ya'll will come back often to check out what is new. I want to add some of my favorite links for yarn buying, like
Smileys
! Ok, so I haven't purchased from them YET! But I plan to when I have some spending money. I told DH that I needed to reduce my stash so that I can buy some new and funky yarns! So look out Rebecca, my yarn swapper, 'cause I have some yarn in mind for you! I'm still working on your package and my other swapper's package. It will be on its way to you soon!
I asked my daughter, Kelley, tonight if she would be my model if I crocheted a poncho for her. She asked me "What is a model?" So I told her she would wear what I crocheted, and I would take a picture of her and put her on my webpage. She said she'd do it. Well, she then goes into her room and comes back out, had donned a hat and a necklace and asked me if I'd take her picture and put it on the computer. Awww.... of course! I'll have to find a picture of Jessica, too, and put her here., too. Oh wait. She's come out all dressed up, too! So here they both are!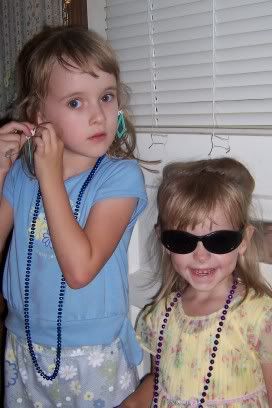 Ok, so I had one of just Kelley in her pink straw hat, but somehow am having trouble getting it on here in the resized format. The first time I put the link on here, the pic was HUGE!!! I figured out how to resize the one of both of them, but now, though I've resized the one of Kelley alone, I can't get the resized one to show up on this page. Only the HUGE one keeps showing up. Hmmm.... Oh well, there's both my girls. Aren't they cuties? No, I'm not biased or anything....
Oh, here's the pic of Kelley in her straw hat!