It's been a week since I last posted and I've missed you all! I've got pictures to share and things to say, so go grab that cup of coffee, or tea, or Coke (I'm not saying the "P" word here!) and sit back and enjoy!

Where to start! Oh, the fair! I did upload the pictures and will show them to you. There are a few so perhaps I should link the majority of them elsewhere. I'll post a couple here for your enjoyment.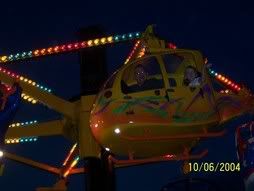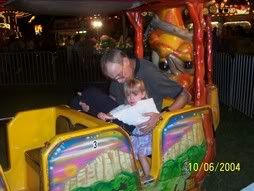 Jessie wore Kelley's Town & Country Poncho to the fair the second night we went. But I'm going to make her one of her own and crochet some Violet Fun Fur around the neck of the poncho. Jessie's favorite color is purple, you know! And I'm not ready to crochet a poncho ENTIRELY in purple for her, but we'll see. I might whip her one up in purple after I do the more neutral one first.

While DH and I were putting gas in our car Saturday night, I went inside to look at their magazines. This convenience store has such a big selection of magazines which is ironic for a gas station. But knowing they had such a good selection, I thought that maybe I'd find that BHG Simply Creative Crochet that everyone is talking about. No such luck, but I did find Family Circle Easy Knitting Plus Crochet! I love the shawl on the cover. Like
Jennifer
puts it, there is such glee in just finding the magazine, even if there aren't many patterns inside that thrill me. Isn't that SILLY!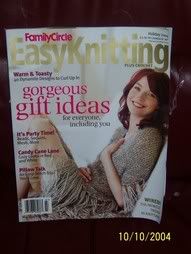 And let's see what else...oh, I've been balling up some of my stash for a yarn swap I'm on. I hope my partners don't see my blog before they get their yarn. But anyway, I saw how
Rebecca's
hubby made her a contraption to mount her coned yarn so that the yarn would roll off easily, and I told DH that I'd love for him to make me something like that. The yarn wasn't rolling off the cones very easily for me. So DH goes to the kitchen and brings me a wooden spoon. ???? What am I supposed to do with that? But hey, a light bulb went off and look what I did! DH said he just took it out until he could figure out how to set me something up (makes a good 'dowel'). He said he didn't even think about just laying the spoon across the top of the box! A good example of where 2 heads are better than one!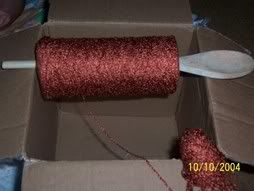 Oh, and I can't forget to show you the Fun Fur which Jessie picked out to edge her poncho! Doesn't it look just yummy?!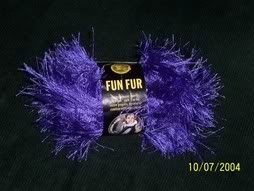 I also made a hat for my neighbor with that chenille. I'm not happy with it - too big and floppy! The too big came from me not using the right hook. The floppy? Maybe my stitches weren't tight enough. I am going to try it again later. Meanwhile my neighbor says she loves her hat...as long as she likes it, I guess that's what matters. Ciao for now!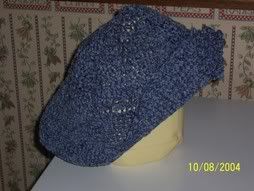 Well, I'll leave this at that for now. I hope that you enjoyed reading!