How was your Christmas?
My parents came down for Christmas and my sister and her family. Normally, we drive the 3 hrs to see them, but as DH had to work Christmas Day, and brother Paul in our neighboring city couldn't travel up this year either due to work, my parents decided to come down here! It was very nice and enjoyable. And though my home is small and there were 14 people in it, it was comfortable and cozy. I hope everyone else enjoyed it as much as I did.
We opened presents first, and then we had a wonderful lunch of turkey and rib roast and side dishes. Then Dad and Hubby fell asleep! ha! ha! Must've been my wonderful cooking! The children played with their various goodies, of course. And even I took a second look at the goodies I received. DH gave me pots and pans (I asked for them! Really, I did!), some Corelle dishes in white (asked for them, too!), and a set of French White Corning Ware cookware (also a request....well, actually I asked for some glass bowls, but this is better than what I asked for!). Oh, he also gave me some new perfume, White Diamonds. I've smelled its scent before and fell in love with it, but I'm usually a Lancome woman....love Tresor and Poem. But sometimes you just have to have something new, right? Well, DH was so sweet and gave me a beautiful gift set of White Diamonds perfume. MMMMMmmmmmm....smells heavenly.
What I remember most from the other gifts I received were a gift box of yarn and a denim tote that said "I love crochet" A BIG tote, too! My mom, who works at JoAnn's, also gave me some scrapbooking material. A really nice Christmas for me.
Here are some pics of the tote and the yarn. I love that JoAnn's "Willow". I'm thinking "scarf"....but which pattern? I haven't used TLC's Wiggles before but am looking forward to working with it....my 3 year old daughter wants a purple hat. She just loves purple! ha! ha!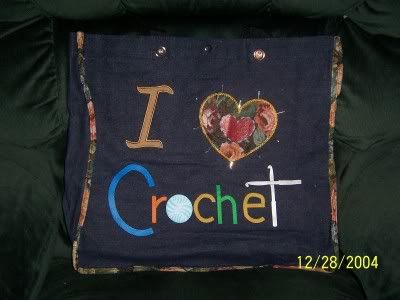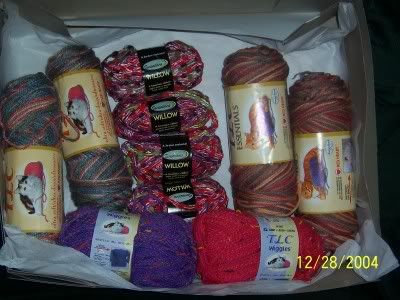 I hope everyone else had a nice holiday, too. Here comes the New Year!