Wow! What a mail day today! My boxie from my Secret Pal came today! She's not a secret anymore though. Thank you so much, Juli! I was excited to open this box because I wondered if she had made me a poncho. She asked me in November what I'd like to see in my December boxie, and I told her that I didn't have a poncho and would love an "elegant" poncho (vs a "country style") and gave her some color ideas. But I didn't know if she'd actually DO IT! But guess what!!!....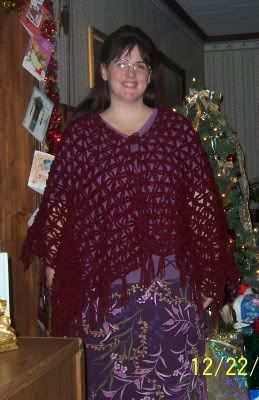 Isn't it lovely? I love it! You wouldn't believe how warm this is though it is lacy. Here's a closer pic to show some of the detail.
This poncho is so cool because those buttons down the front...they actually tie the poncho together. They're removable! Just untie them! Then this poncho becomes a shawl! What a great idea! I'm wearing it right now (as a poncho) as I type. It is just warm enough to take the chill off without being too hot. Wow, I'm just overwhelmed.
But you know what? That wasn't all she sent to me! The poncho was actually at the bottom of the box, and I was already overwhelmed with all the little goodies that I took out of the box first. Check out these thread ornaments! Aren't they beautiful? The girls have already hung them on our tree.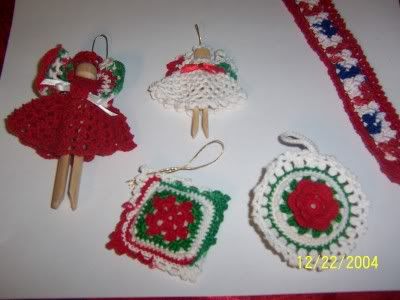 There's also a bookmark in there on the right! I love these...they're so precious! Besides those 4 ornaments, she also made this snowflake ornament which is so nice and stiff and glittery!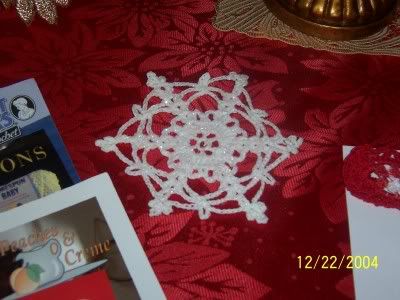 But that's not all! Cute and colorful coasters!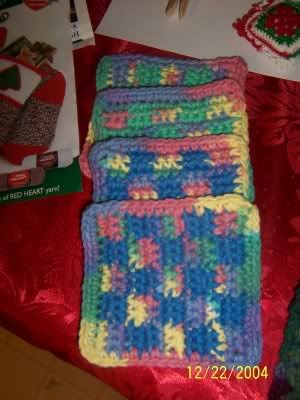 Dishcloths!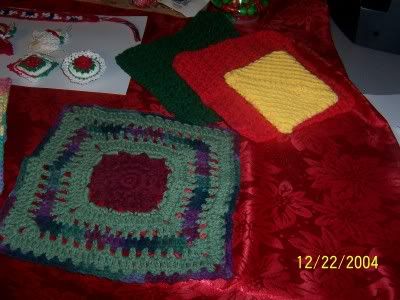 And more goodies!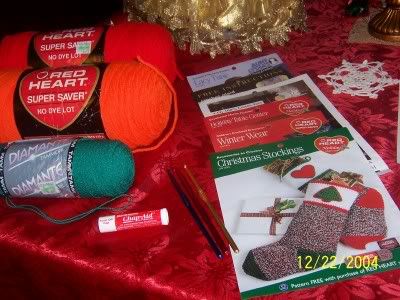 There were two Red Heart skeins of yarn, one in Red and one Orange, and a small fingering weight yarn in green that has some sort of sheen to it. Very pretty! She also sent 3 crochet hooks in sizes G, H, and I, lots of pattern sheets that were all new to me and already have created new WIM, and a tube of chapstick.
Wasn't this just a great gift? Full of a variety of crocheted work and other goodies. I am so impressed, Juli! Thank you so much!