Hi, everyone!
I finally got a moment to upload the latest pics of projects I've completed. They're all gifts for others, too. Do we ever make things and KEEP them? I'm going to have to try that one day. Ha!Ha! But I do enjoy creating things for others.
Hopefully my Secret Pal is not reading my blog. If she is, and that is if she knows who I am, then she'll see what she's getting! I've put together a boxie of stuff for her such as lotion and cosmetic samples in a makeup bag, some cute little ceramic dolls that are only about an inch and a half tall, a beaded candy cane ornament, and little stuff like that. Crochet-wise, here is what I made for her.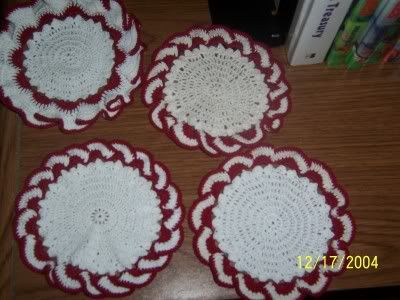 This is a set of 4 coasters that sort of nestle within one another when you place it in a basket. BTW, the pattern is from Annie's Crochet Newsletter, Jul-Aug., 1991 - No. 52. I couldn't find just the right basket to place these coasters in (I wanted one with a handle but couldn't find one small enough to create that 'blossoming' effect), so I opted for this small square basket as it 'blossoms' the coasters the best.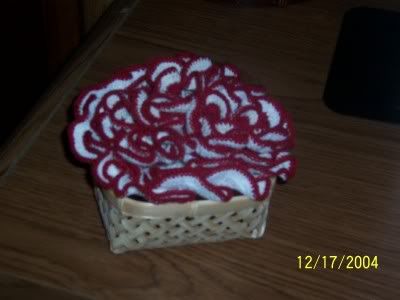 Here was my other option, but I really don't like how the coasters got lost in the basket. I actually had to put 'grass' stuffing in the basket so that the coasters could sit up higher. But I still don't really like the effect.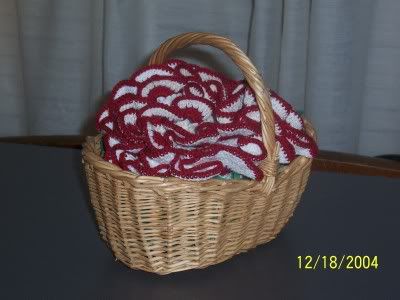 I also made this child's hat in purple Lustersheen. My 3 year old daughter is having a hard time not keeping it, but I promised her one, too. As it is, I want to be sure my pal's 4 year old daughter gets this before Christmas. This pattern is from a 5x7 booklet titled "LusterSheen Potpourri, Article J14, Book 1421"
And here's a side view of it. I really like how it turned out.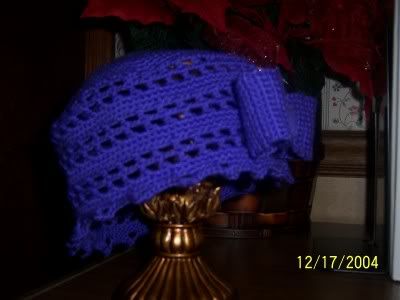 My mother is a Red Hat Society member and I made a purple boa/scarf for her using a strand of the Boa eyelash yarn and a strand of purple chenille. I had never worked with one of these unique yarns before (eyelash yarn), though I had heard of others' experiences with it. The general concensus was to use a strand of another yarn with it so that you could see your stitches better. I found that tip to work quite well and would recommend it to anyone wanting to try these specialty yarns. Here's the boa.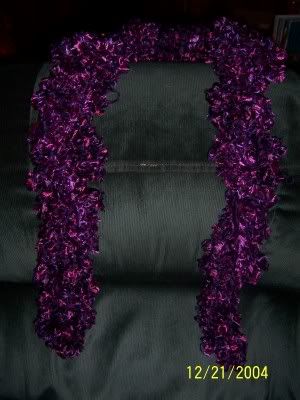 Oh, I have also been whipping up
Sweetie the Snowflake
ornaments. How cute are they? Actually, I haven't applied the google eyes or the coloring but am going to enclose them in Christmas cards with a simple gold thread hanger. Yes, I still don't have my Christmas cards out. I am believing that I am a procrastinator. I haven't always been one! I think it has something to with having children.... well, that's my story and I'm sticking to it! :-)