For the past few days, I've become interested in beading. I don't know where this interest came from unless it was due to that lovely Butterfly Bookmark I was RAOK'd with a few weeks ago. In fact, I went to Walmart and purchased my own tube of seed beeds and made my own butterflies! The bigger butterfly was the first one I completed and the thread used was Lustersheen, a thicker, size 5 thread. The smaller butterfly was made with #10 thread. And I think it looks better as far as the beading and that curling of the antennae. These will be fridgies, but you can also use them as pins! I'm going to keep my first one, but give away the second one. I'm sure that I'll be making more!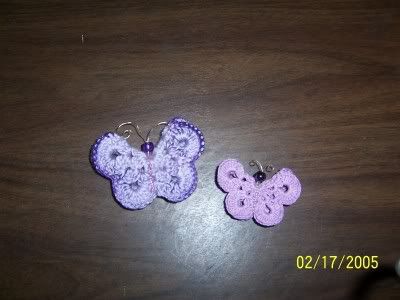 Oh and look what DH gave me! When I told his patient and longsuffering self about this new interest, he promptly told me that he had a needlenose plier set that I could probably use for it. My dad gave this to him several years ago as a Christmas gift, and Tommy has rarely used it. Well, let me clarify. He did use the needlenose pliers on something once and promptly broke the tip of the pliers! Looking back he thinks he was trying to use them to do a heavier job than they were intended to be used for. However, these are Craftsman tools and the Sears store has a lifetime guarantee on the Craftsman brand tools. So we can get this piece replaced. But isn't it just nifty to have this whole set of tools for my new interest? And I didn't have to buy it! :-) Isn't Tommy sweet to give these to me? Wow! They're basically brand new though the picture makes them look dirty. They're actually shiney clean and barely touched! Oh, and it was the pliers on the far right which he broke one half side of the top. The left side of those pliers is gone. It's got one 'claw'.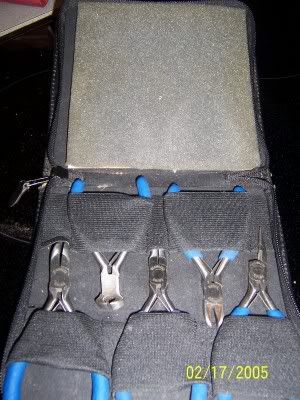 Today I picked up a Bead Style magazine at Walmart and I've just been checking out the websites advertised in it. Wow! A girl could really get into all these beads!
Oh! And I discovered a new LYS in my area! Wow! I didn't know The Crafty Lady was in Statesboro, but she is! Her shop is in an older historic home and while she is not a large yarn shop like The Red Needle in Savannah, she has a little bit of everything and will gladly order anything you want! She has all sorts of needlecraft supplies...yarn, knitting needles, crochet hooks, accessories, quilting supplies and fabric, cross-stitch supplies, beading supplies, and needlepoint! I spent almost $50 in there but loved how her store was set up. There were even freebies in there. I got a 2000 issue of Knitters magazine for FREE just for making a purchase! There were other magazines I could've chosen from for free, too. But this Knitter's magazine caught my eye with the purple mitered sweater on the cover.
My 6 year old daughter Kelley was pretty excited in there, too, I was surprised to discover. She says she wants to learn to knit and crochet. I'm glad about that. Ms. Amy got Kelley interested in a Knitting Knobby. This one is in the shape of an animal with 4 wooden pegs on it, which Kelley wraps the yarn around and knits her tube from. I thought it was pricey for $8, but as Kelley was so excited about it, watching Ms. Amy show her how to pick up the stitches and pull them over the pegs, I had to get it for her. I definitely want to encourage her in any hobby that she's interested in.
We can't wait to go back to The Crafty Lady. I told Kelley we would go the next time we had some money to spend because there was NO WAY we could walk in there and not buy something! By then, I told her, perhaps she will have a nice sized tube to show Ms. Amy.
And by then, maybe I could buy some of that totally scrumptious yarn I saw called Crystal FX! It was a beautiful cherry red color with the 'crystal' flecks coming out of it. But at $9 a ball, I couldn't do that today. Oh, but it was gorgeous.... (sigh....) I just found it online at Yarn Market and if you click on the link above, you'll see all the colors they have. Scroll down to the "#4755 Gernadine" color and you'll see what I have fallen in love with! I see, too, that my LYS isn't too much higher than the Yarn Market...