Yesterday's mail brought BEADS! Coralie from Crochetville directed me to her beading supplier, DS9Designs, and after perusing Debbie's website, I also was impressed with the 'smallness' of her business, yet her ease of ordering. Coralie said that she was pleased with Debbie's friendliness and promptness, and I must agree now that I've also received my order. She's not a huge company, but I think that contributes to her charm. Here is the small order I received today. I only ordered 3 colors each of hearts, crescents (fairy wings), rounds, and teardrops. They arrived in individual pouches, but I just poured them all on one large plate for ease in using. Don't they look fun??? Click on the photo to see it larger and the beads more clearly.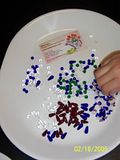 My daughters, Kelley and Jessica, enjoyed the new beads and wanted to "play" with them immediately! Here are two pictures I took of their hands beading. It's funny, my smallest wanted to play with the smallest beads...Seed Beads! But I showed her how to pick them up with her needle and she did a good job and had fun. Kelley was working on some "Angels".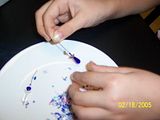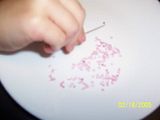 Here are the Angels we made. Thank you, Coralie, for pointing me to this website for the beaded Angel idea.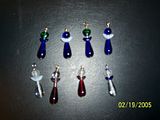 And here is my first book thong with the help of this website. My husband laughed at me when I showed him this, telling him what it was. I think it was the "thong" part that he found so amusing...