This weekend was a splurge weekend. We received our tax refund and got a little spending money to just go buy whatever we wanted! The rest we put towards our bills. But we're not going to talk about our bills here. We're going to talk about all the goodies I was finally able to buy!
I bought a Quilter's Cut 'n Press not for quilting but for crochet! I do want to learn to quilt, and have some fabrics and supplies to begin, but my idea with this purchase was a blocking board and a board to measure squares with! The other side of this is a harder surface, and I can easily measure my 12" squares by laying them on it. Or any other smaller square that I make!
I also bought two pairs of purse handles, some small pattern books, 6 skeins of yarn, tube of seed beeds (to make butterflies), a package of sequins that I have no idea what I'm going to do with yet, but for 20 cents was not going to pass up, and large chunky beads, clearanced for 50 cents a package, that I thought would be useful in these book thongs. I also bought a 94 cent paper towel holder only because it looked like a perfect holder to hold those balls of thread that always end up rolling across the floor when I'm crocheting with them. Nifty, huh?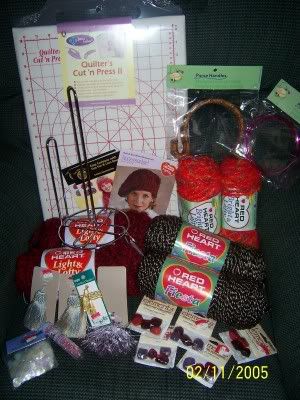 Here is that paper towel holder up close.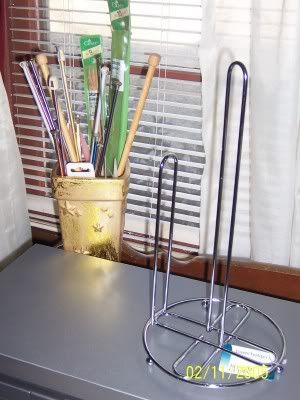 And here are some chunky beads that made me think of book thongs.
Here is another group of goodies I bought, more patterns, some specialty yarn, some small cross-stitch projects that were clearanced for 75 cents, more clearanced chunky beads, some heart beads, some seed beads, clearanced tassels, needles in a cute nostalgic holder, and the prettiest dragonfly buttons. I saw the Mary Engelbreit magazine in another store that I wanted to purchase but had put back so that I could buy a different magazine. Well, I'm glad I put it back because the same Mary Engelbreit magazine was also in Walmart but with freebie Valentine magnet sayings! How cute!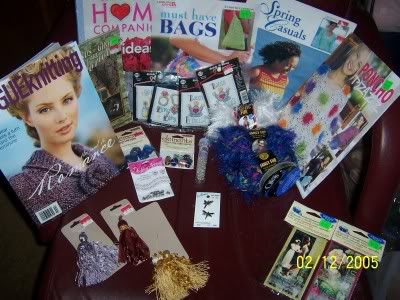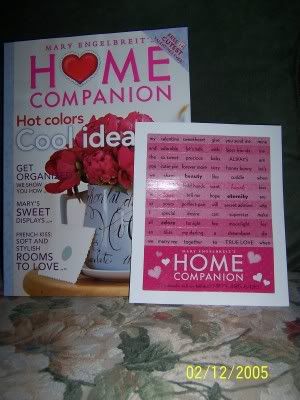 Last week this book finally arrived in my mailbox, The Shop on Blossom Street by Debbie Macomber! I read it months ago after hearing good things about it, and it became a book that I wanted to add to my personal library. So months later I found it at Half.com for $1.00! Hardback and in perfect condition! For less than $5 ($1 plus shipping) I bought this book, and am so happy to have it. It's about a woman who owns a yarn shop and she hosts a small knitting group in her store. The 4 women in the group are all so different, coming from different backgrounds and life experiences, and they basically are learning how to get along with others not like themselves and learning to love each other! It's a great book, and I would encourage any knitter, crocheter, or yarnie to read it! There is a follow up story coming out this year that I look forward to reading, too. I don't care for Debbie Macomber's other books (though I only began one other one) because they seem to be more in the romance genre of books, which I'm not particularly interested in. Granted, I only began one book, one of her "Cove" series (don't remember the title), but decided I didn't want to read the whole thing, and haven't picked up anymore in her series. However, I've heard good things about her other books for those interested in that genre. I felt this book "The Shop on Blossom Street" was so different than the second book of hers I picked up. "The Shop..." seemed filled with less 'fluff'. It's not a romance novel. I'm willing to be corrected if anyone finds another of her books that reads like her "The Shop..." book, though.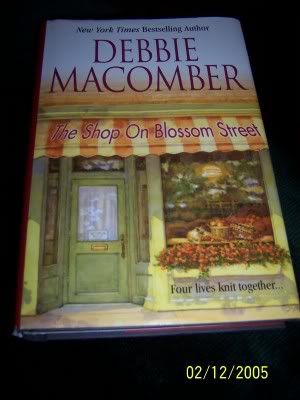 Friday, I also received these beautiful beaded stitch markers from a Crochet Angel at Crochetville! Aren't they gorgeous? Wow! Thank you again, Crochet Angel, if you're reading this!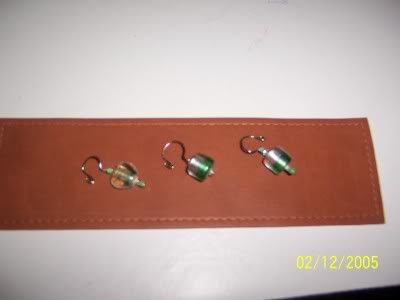 Hubby even granted a few of the items off my WishList, too, particularly the yarn winder I've been wanting for quite awhile now! It's on order, though, so it's not in my hands YET! I purchased it from Herrschner's as theirs was the least expensive that I've found at $35.99, I believe it was.