The past few years, I have really liked frogs. Not just any frog. But those little green tree frogs, I believe they're called. I don't know what it is about them. There's just something about that green that draws me....I wonder if this is what Miss Piggy said when she first saw Kermit...
I was in Walmart tonight and saw these cute little Air Plants. There were assorted "animals" with the air plants. The first one I saw was an iguana, then I saw a lizard. I picked up the one with a turtle and ALMOST bought it, but thought "No, let's see if there's a frog!" And sure enough, here is what I brought home. Aren't they so cute?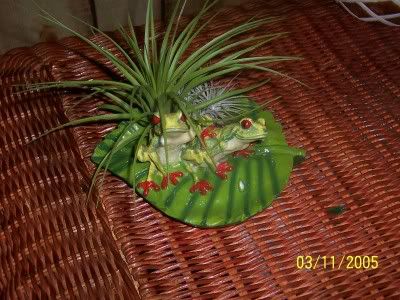 Well, I just love them. I guess other crocheters and knitters like sheep and other woolly creatures....me, I guess I'll be the smooth (maybe slimey?), green-skinned frog lover.
On the crochet front, let me say that I am usually NOT a fan of Crochet World Magazine. In general, I've always found their projects...well, just not to my taste. I don't know how to say it tactfully, 'cause there are designers behind the projects, and it's no reflection on the designers per se, but I just never have liked the overall collection of patterns chosen for the magazine in the past. Perhaps someone else knows what I mean. I don't even know how to describe the projects. I guess I'd say they didn't seem very "professional" or up-to-date? I can't quite put my finger on why I wouldn't purchase Crochet World Magazine in the past but would purchase Crochet Fantasy Magazine.
Well, let me say that this month (or rather the April 2005 issue),
Crochet World
is a WINNER!!!!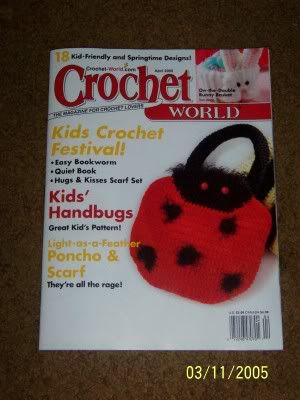 First of all, on the front cover is pictured the cutest little ladybug purse. Behind it, you can barely see the Bumblebee purse pictured with it, but you can see it more clearly within the magazine where the instructions are given. The ladybug (another favorite creature of mine) purse is what caused me to pick up this issue. It only took 2 more pictures to land this magazine into my shopping cart. There are some cute and very easy-to-make yarn bookmarks called "Easy Bookworm". Then there was a "Quiet Book" that I thought was precious for a young toddler. It has a button to button on the first page, a shoestring to tie on the next page, and snaps to snap on the last page. The "pages" are simply a crocheted square. And finally, this is what made the magazine JUMP into my cart, there is the most adorable idea in a "frog pin"! You have to see this pin to understand...it's crocheted in thread, the frog is holding a crochet hook, a small yarn swatch, and underneath the swatch is the beaded word "rippit"! TOO CUTE! If you have not seen this magazine, you just have to! There are more projects in it that I saw when I got home and had a moment to really look through it and I am really impressed with this issue of Crochet World. This coming from someone who is generally not a fan of Crochet World. So it's got to be good if I say so!
The website still has the February 2005 issue pictured, but hopefully soon they will have the April 2005 issue up and perhaps a free pattern or two from it posted under their free patterns. I've sent a letter to the Editor to convey my excitement about this issue, and which particular patterns (there were only 3 that didn't really interest me) I loved. Perhaps they'll put the Frog Pin pattern up under their Free Patterns section. Keep a look-out!
Well, I'm off to first check in with my mom who is also doing the hooded scarf. We ran into problems understanding the "hood" part. I finally figured it out by just NOT reading the directions and trying to think about what my next goal was in the pattern, which was to create the hood part. The instructions are written out fine once you 'understand' what you're trying to do, but when you first read the instructions, it's like "What?" It took me 30 minutes or longer (I had to leave the project and come back with a fresh mind) to figure out what the directions were telling me to do with my actual piece I'd worked thus far. When I finally figured it out, part of which was just DOING and seeing how it came out, I felt like "Duh! That's what the directions said to do." Oh well. Sometimes the simplest instructions can seem so difficult.
After that, I think I'll sit down and make a crocheted frog pin from the Crochet World Magazine...it would probably make a cute bookmark, too!
I thought about changing my background on my blog to frogs, dragonflies and lady bugs...but then I thought that if I even was able to accomplish that feat, ya'll wouldn't "recognize" me anymore! Do you ever recognize someone's blog just by it's appearance? Well, I wouldn't want to confuse ya'll...I might have to incorporate them little by little...you know, a little frog here and little frog there until before you realize it, they've overrun my page! Anyone know of any good frog clipart out there?
Ta Ta for Now!