Today's mail brought a puffy from my Crochet List Bookmark Exchange buddy. This was really nice as I needed something to brighten my day. Theresa sent a really unique bookmark, not just unique in the thread but also in the style. She told me in the letter she enclosed that it was a rather expensive yarn in her LYS but she bought it anyway to make bookmarks for the exchange. It's Cascade Yarns "Fiesta", made in Brazil, and is 100% viscose. It's very very pretty and I'm glad that she bought it. I love this! I'd love to have enough of this with which to make a summer sweater! It's so light and drapey!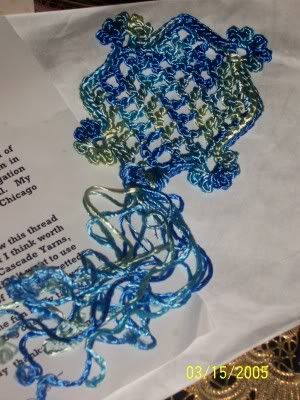 Look at all the other wonderful things she put in the envelope! Some Peppermint Tea, 5 free pattern sheets, a recipe card for sugar cookies (my girls love you!), and a blank notecard and envelope to use! I love notecards and this is really a good idea to enclose a blank one in a puffy!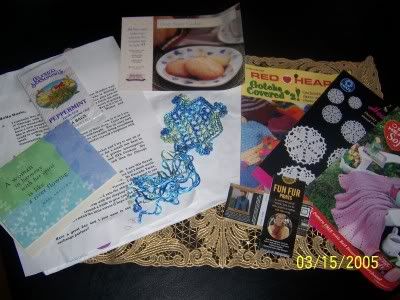 Thank you, Theresa!

I hope you read my blog! But in case you don't, I'm going to send you a personal "thank you" anyway.