Monday's mail brought a lovely package from my Secret Pal (not my Crochetville Secret Pal - sorry, C'ville SP, it's just not here yet
Maybe tomorrow!). Actually, my Secret Pal is not a secret anymore either. She has revealed herself! It is Theo Cox! She gave me wonderful gifts each month during the three months the exchange ran. The thing I remember most about Theo's gift choices was of how diligent she was in sending me things exactly in my color preferences for my kitchen (we had a kitchen-themed round, and I indicated that the colors in my kitchen were black and white and a third color would be red). In the
first month
's goodies, I remember mostly these wonderful red and black and white dishtowels she sent that had black and red pots and pans all over them and a knit red and white dishcloth. There were more goodies in the packages she sent, but these things stood out to me the most. Then the
second month
she sent black and white potholders and black and white dishtowels, and now, look what her last package contained!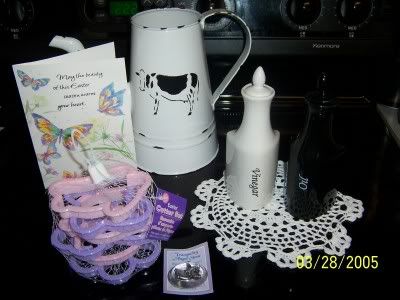 Theo sent a "Tranquility Stone" which is in the foreground of the picture. It is a white acrylic "stone" with a silver or pewter angel inside and comes with a little poem. Also were some lovely cookie cutters in a Spring/Easter theme - bunnies, flowers, butterfly and egg. There was this very adorable black and white decorative pitcher featuring a cow on the front. She also sent a lovely Easter greetings card, and a white crocheted doily. And finally, if I may say this, my most favorite thing in the whole bunch was the black and white oil and vinegar bottles!
I love oil and vinegar dressing, and I've always wanted something pretty to hold those ingredients, but I've never found anything I really liked beyond the glass bottles. But these...I fell in love with them the moment I unwrapped them and set my eyes on them. They are PERFECT for my kitchen decor! Theo, what made you think to give such a unique gift? I mean, it's as if you KNEW I would've loved them!
Theo,

so much! For EVERYTHING! It's been fun opening your packages each month and you did a wonderful job choosing things to coordinate with my black and white color-themed kitchen.
---------------------------------------------
That was Monday's mail.
Tuesday's mail brought me a box that I thought might be from my Crochetville Secret Pal, but as it came in that familiar brown UPS truck, I had to rethink that. I didn't figure my German-based pal (sorry, I think I've got you figured out!

) would be using UPS. I couldn't imagine what this box was, but after opening it, I was "sweetly" reminded! Look!
MOONPIES!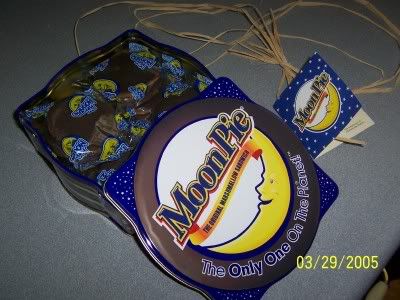 After this
post
, I spent some time looking over the Moonpie
homepage
. Being a lover of "Brand-name" tins, I saw this adorable Moonpie Tin and I ordered it! What super-quick delivery! I ordered it Sunday and it arrived Tuesday! I've never seen the mini-moonpies, which I've been told are 2-1/2" in diameter vs the regular moonpies which are 3-1/2" in diameter. But this tin was full of the mini's. Of course hubby and I had to sample one (or two) and let me tell you, I don't think I've ever had a Moonpie as fresh as these were! They were so soft! Makes me wonder just how long they stay on the store shelves before they're purchased. I purchased a box Monday from the grocery store, and they did not taste as fresh as these. I'm impressed with these from Chattanooga, TN! I can personally say that if you are interested in ordering from this company, I think you will be happy with their service and product!
---------------------------------------------
TJ discovered a dragonfly today!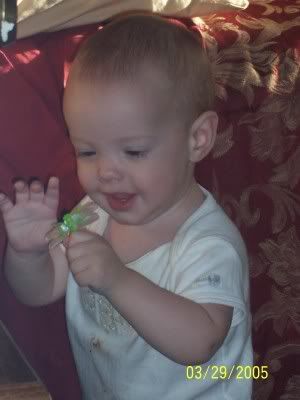 Oh, don't worry, it's a plastic one. His sister Jessica left her bugs out and looks like TJ found one. Tommy was watching him around the corner, unbeknownst to TJ, and Tommy had to laughingly come away from peeking and tell me to go watch TJ and watch just how mischievous our son was already! TJ would reach out and touch the dragonfly, look around to see if anyone was watching, and then grab the dragonfly and laugh! I've watched this little 9-month-old boy at other times, and he IS mischievous! Where is that coming from? The "boy" in him? There are things in the house he already knows is a "no-no" or we've had to remove from his grasp before, and sometimes we will catch him going for any of these "no-no's", sitting in front of it (like shoes left on the floor, for example), and he'd look at us first to see if we were looking. Then if he came to the conclusion we weren't noticing him, he'd reach out and take what he KNEW he shouldn't! I remember a specific incident of him crawling to a pair of shoes left on the floor, sitting down beside them, hands in lap, looking around at me and sitting there with this look of "I'm about to touch these shoes. Do you want to take them away now?" Where does this come from?! It amuses me and yet amazes me. The girls were nothing like this. Into everything, and so DARING!
Now look at him.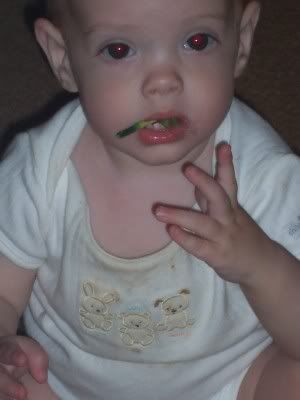 Is this an indication of what I have to look forward to in the future? Except he'll be eating REAL bugs???? Eeeekkkkk....
Don't worry...no bugs were harmed in the shooting of this picture. And no baby choked by putting a large plastic bug in his mouth. Yes, I was standing there watching my baby put a plastic bug in his mouth just so that I could have this cute picture, but daddy was right there with me in case the bug fit all the way in TJ's mouth.
---------------------------------------------
Leaving you on a more serious note...I read
this
and must agree. The saddest words I read were these
words
(remembering that many news articles refer to Terri as being in a "vegetative" state):
"
Most Recent Report from the Hospital Bed: Terri Continues to Communicate
After three visits to Terri Schiavo's hospital bed in the last twenty-four hours, Sherry Payne, close friend of Terri Schiavo, appeared on MSNBC's Abrahm's Report Monday night. Mrs. Payne indicated that Terri recognized her, interacted with her, tried to speak, was very loud, and was the most communicative she had seen her:

Terri is very verbal.... Her eyes follow you. When I was speaking to her last night about all the good times we had, she lifted her face to me. Her eyes followed me, me and tried to talk.... She was very loud to the point that the police officer came to the bed and looked at her. When you speak to her she looks at you, she follows you and tries to speak.... Last night was wonderful.... She has come a long way.... When I spoke to her about dancing both of her arms came up, then went down.
Don't forget Terri in your continual prayers even though we may feel all hope is gone in her being fed again. Be comforted in the fact that there is always HOPE until that last breath is drawn. And if she should die, we can then be comforted in knowing that she is no longer suffering in this sick, perverse and cruel world, where right has become wrong and wrong has become right.