Today my second package from the Crochetville Spring Blossoms
Yarn Swap
arrived. Thank you, Kelly! (Kelly, do you have a website/blog?) I love it all! My two girls opened the packages for me and they loved pulling out this yarn. Caron Simply Soft is one of my most favorite brands and the Spring colors are just lovely! I really love the chenille you enclosed, too.
Yes, it can be hard to work with but it is really lovely and soft. I've worked with it before but have decided that I wouldn't take the time to make a big project with it. It is not 'froggable' as the tiny yarns rip off that center thread too easily and I'm not sure how it would take to washing, even in a gentle handwashing. I would be so disappointed to put a lot of time into making a sweater or something of that nature only to have it ruined so quickly. But perhaps someone else has had good success with working with chenille. I'd love to hear some success stories or ideas of what could be made with these chenilles. Myself, I tend to make small projects like hair scrunchies, headbands and the like with it. Maybe a bookmark would look nice since this is one of the thinner chenilles.
No matter, Kelly, 'cause I love these colors and I will definitely be working this up into something! Thank you!
And look at this lovely pin that arrived in the mail today!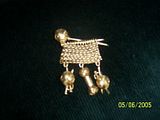 Ok, so I bought this one for myself off eBay, but isn't it lovely? I'm really pleased with it. I'm thinking this would make a lovely RAOK for fellow knitters...now to find a crochet-themed pin...
Last night, my friend gave me this lovely flower arrangement from her garden for Mother's Day - irises and daisies.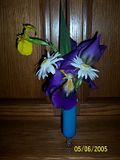 Isn't that a lovely vase? This picture actually doesn't do it justice, but it's very pretty. I was admiring it a few weeks ago in her home. I'm not 100% positive that the vase is part of the gift. How do I find out? I guess when the flowers are faded I will return the vase and thank her for the flowers and the use of her vase. Then she would have the option to take the vase back or assure me that it was for me. How would you handle it if someone gave you a vase from their home with flowers in it? Would you assume the vase was being gifted, too, or would you return it?
On Tuesday, I was RAOK'd with a $10
JoAnn
gift certificate from
Sedie
. What a thoughtful and generous gift! So unexpected and surprising. I mean until now, Sedie was a stranger to me. But she is also on the Fibre RAOK list and for some reason only known to her, she chose to RAOK me! It really touched me and made me smile. Thank you, Sedie! It's wonderful being part of RAOKing, giving and receiving.
Oh, and I've already used the gift certificate, for myself and a RAOK!