The title says it all. This post is about dishcloths. I am in dishcloth mode. Besides being in a few exchanges where dishcloths can be exchanged (like
here
), and will be exchanged
here
, I am just enjoying some quick crocheting.
Here is a dishcloth that I'm working on now. You can find the pattern for it
here
.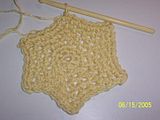 There is another
Star Dishcloth
at the
Dishcloth Boutique
. There are both knit and crochet patterns at the Dishcloth Boutique, so if you've never been there, and you like to make dishcloths, be sure to check it out.
And here are two dishcloths that I worked up a week or two ago. Yes, I said "a week or two ago". They're quick but my love of playing with yarn is not at the top of my list of "Things To Do" (unfortunately....well, maybe I SHOULD put it at the top of my list of "Things To Do". Wouldn't that be a novel idea?...)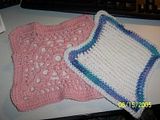 Has anyone ever blocked dishcloths? I mean is that a little strange to block a dishcloth? Well, after how that white one turned out, I thought blocking it might straighten it a bit. But I'm not sure...maybe I shouldn't worry about blocking them. They're going to get wet anyway.... any thoughts?