I wanted to share a few cute pictures I'd taken recently. One of the few times I've actually caught Daddy reading a book to TJ, but they sure did look like they were having fun. The book was about Bobby Bear. We picked it up in the Great Smokey Mountains during one of our trips to Gatlinburg, TN several years ago. It's a wonderful lift-the-flap book with beautiful pictures and wonderful surprises. We even have "Billy Bunny", too, which one could call a companion book to "Bobby Bear"!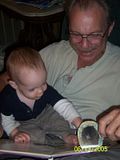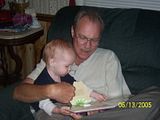 Also, Kelley discovered some dragonflies! This one kept landing on her. We couldn't decide if it had just been born or was on its way out of this life? (I see a Unit Study on this subject.) There was another one just like this nearby, but he preferred to stay on the ground. Sadly it was late in the afternoon, and the birds were swooping. We were afraid that these dragonflies would quickly be leaving this life in a not-so-nice way...ah, nature. Call me silly, but times like this make me long for heaven even more where there will be no more death, not even for the simple dragonfly.
Look how pretty these were. And talk about the food chain, I actually was able to capture a picture of the dragonfly having dinner himself...it looked like an ant with wings to me. Maybe a termite?