(oops! found a post I drafted two weeks ago which I haven't posted yet! So here it is - from May 20th!)
Considering the major stress we've been going through lately, I haven't been crocheting much lately. I really need to get busy finalizing some of the things I HAVE to finish this month.
Drew's
Ginkgo Bookmark
was my inspiration when I crocheted this bookmark.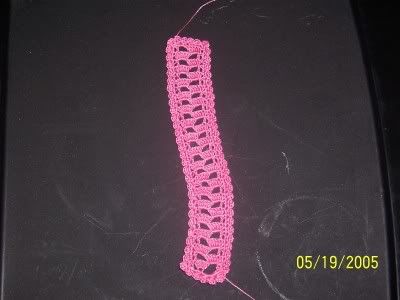 I did NOT mean for it to turn out wavey like that. I think it had something to do with the edging. Am I the only one who hates instructions like "work sc evenly around entire project"???? I think that's where I went wrong. But instead of froggin' it, I decided to just keep it, or give it away as I originally intended, and just pretend that I meant for it to curve like that! What do you think? Could I get away with it?
I also crocheted a little pillbox hat for my neighbor trying to convince her to come to the Red Hat Society's gathering. She was telling me Wednesday that she didn't know if she would go and she didn't have a hat, and really just making all sorts of excuses! So I told her I'd make her a hat! She complained about the big floppy hats that she seems to find everywhere saying they're just too big for her head. She said she wanted a "pillbox" type hat.
So I found
this
on the internet, and instead of cotton, crocheted it in RH Plush (a very soft chenille-type yarn). However, it seems sort of floppy and I don't know if it's big enough. The cotton called for in the pattern probably serves to keep it stiff. I'll try the hat again in cotton. The RH Plush challenged my eyesight as I couldn't see the individual stitches very well. I pretty much had to crochet by feel.
My neighbor didn't need the hat, though, because today she came home with a hat from Walmart! And she did come to the gathering. It was a great time to loosen up and relax. I needed it!