Today (or rather, "Yesterday!" - that's what I get for being a night owl) a puffy arrived from Mable for the May Crochet List
Bookmark Exchange
. What a wonderful puffy!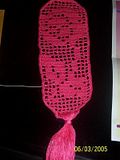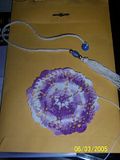 I took a picture of all the goodies together, but realized one could really see the "Rose" pattern in the filet bookmark better if it was against a black background. So I re-took a photo for that bookmark. And then I had to show Mable's other crochet work up close and personal! A coaster or small doily, however I prefer to use it, in a variegated purple thread, and a thong bookmark! Am I allowed to say that the thong bookmark is my favorite?!! The beads are so pretty and it's crocheted so lovely! But I know that Mable spent oh so much more time creating that lovely rose filet bookmark. It's beautiful. Thank you, Mable, for all the goodies!
I'm also glad to know that your bookmark from me arrived, too! Here's a picture of a bookmark that I sent to her, just simple blue thread with two yellow butterfly buttons sewn at each end.
I had to share this picture of my girls with some of my yarn stash... Oh, the many uses of yarn. You can crochet it, knit it, weave it, craft with it, or...
BURY your sleeping daddy under it!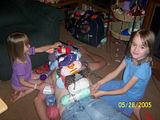 This next picture is a Barbie Knit Hits machine.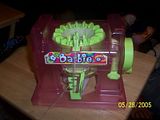 It's a plastic toy, which I probably bought for Kelley when she was 4 or 5, but only just recently brought it out again. Kelley has been playing with it and knit two scarves with it, one for her friend and a smaller version for her friend's Bitty Baby doll. I forgot to take pictures of them, but they were a simple tube scarf in lime green and they were cute.
And on the Beading front, while I was visiting my parents last week, my mom bought a surprise for me...some round nose pliers for my beading endeavors!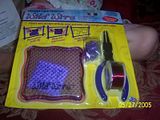 She works at JoAnns so she just picked these up plus a few activities for the girls before she came home. Wasn't that thoughtful? She got the idea, I suppose, because while we were sitting watching some Jewelry making show on DIY, I commented how Tommy had given me
this
wonderful set of needle-nose pliers but I had no round-tip pliers in the set, which made 'swirling' my wire not so pretty. And what do you know but she bought some for me! I was very excited and happy. I'm looking forward to using them real soon for some stitch markers and some bookmark embellishments.
And finally, I leave you with some Gardenias picked fresh today (oops! I mean "yesterday"!). Aren't they just gorgeous?