While wandering through some blogs yesterday, I came across a blog where someone was showing this very pretty photo of a purple flower and ladybug (see it
here
) that she had just been given! She said she fell in love with it when she first saw it. I did, too!
So I wandered over to
therileys
and looked through their photoblog. Oh wow! Beautiful close-ups of flowers. Even a fly looked beautiful! The iridescence on its back was amazing!
Ryan kindly told me that the Macro button on my digital camera is for taking pictures that close up. Oh really? I didn't know that! (Guess I should read my User Manual...I might learn a lot of neat tricks!) Needless to say, I had to try that setting on my camera. Look what I came up with! (you can click the photo to see a larger version) These are from my garden...well, except for the Crape Myrtle..that was in my neighbor's yard. They were so gorgeous in bloom that I had to try my newly-realized camera feature on them!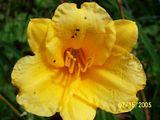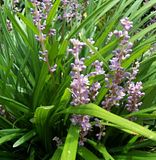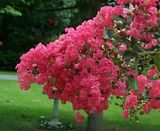 And look! Even I snapped a clear photo of a fly!
Oh, I am going to have some fun with my camera now! I could never take clear close-ups like this before! And the capability was there all the time. So you all be sure to check out your own digital camera Owner's Manuals...you just might learn something new like I did!
On our way home yesterday, we drove by a Pawn/Thrift Shop around the corner from our home, and I noticed a bike for sale that looked like it would be perfect for Kelley. So after we got home and I got sleepy TJ in the house, Tommy and the girls walked to the shop since it was right around the corner. (That phrase sounds familiar...The Shop Around the Corner - the earlier version of "You've Got Mail". Both were good movies.)
Remember when Kelley was learning to ride her bike without the training wheels? Well, she needed a new bike
THEN
! Well, look at her now!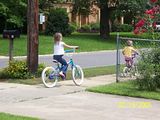 Kelley got a bike today that fits her, we put the training wheels back on her other bike, and now Jessica gets to graduate from her tricycle to a "big girl's bike"! She looks like she's enjoying it! Enjoying their bikes so much, they're LEAVING! Ah, how soon will it be before we'll be taking those training wheels off again for Jessica to learn to ride without them...I imagine it won't be too long.
What makes this new bike even sweeter is that it was FREE! I couldn't believe it when Tommy came home and said Wayne just gave it to her! Tommy went to school with Wayne's brother and knows the family from his school days. It's a small town and people are just really nice here in Metter. Our town has a motto: Everything's Better In Metter! And wouldn't you agree? Have you ever had such a nice bike given to your daughter for FREE??? I love it when I see that selfless generosity in people. It's so rare.
Now Kelley has to get that "Thank You" note off to Mr. Wayne!