Finally, other projects I had been working on have been finished, and I can finally sit down and begin this doily I've been wanting to crochet ever since I first saw it. It's the Snow Flower Doily which was published in Annie's Favorite Crochet Magazine's October 2000 issue. FreePatterns.com has shared the pattern
here
!
I thought that I would take pictures of my progress as I went. But then maybe that's a project for a single post in the future when it is completed, and I could lay out each photo of progress in one post ...I don't know. That would be interesting, too. I took a picture of what I've completed this morning. I've completed through Round 4 of 30 Rounds.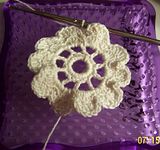 I'm going to love this doily. I hope I'll be able to give it away when it is done! I wonder if my swap partner will be visiting my blog to get a peek...
***Ok, I have to insert something here. This is so strange. I just went to search the 'net for the Snow Flower Doily so that I could link to it and was intrigued to see that there was already a thread (no pun intended) on the Crochetville Forum about this particular doily (I just discovered this pattern's existence a couple of days ago). So I went to read it. Whoa! This is really weird, but I discovered that
Mary
(dennymare) started the thread showing pictures of the doily she made, the SNOW FLOWER DOILY! "
So?
" you might be asking. Well, Mary is the lady who sent me the doily that I received yesterday, and that
doily
was the exact doily that was second-in-line on my Doily To-Do List and second only to this Snow Flower Doily that I'm doing right now! Do you understand what I'm saying? Out of 20+ doily patterns I printed out yesterday, Mary sent me my 2nd favorite doily, not knowing that it was a favorite of mine, not even KNOWING ME!, and I only just discovered a moment ago that she has also ALREADY completed the Snow Flower Doily! I'm saying that this lady and I, who only just became aware of each other's existence perhaps, have very similar tastes where doilies are concerned and it's a little uncanny, don't you think? Out of the only two doilies I've seen that she's done, both of them are the two favorites I just printed out yesterday.
Ok, maybe it's just weird to me.... ***
Before I leave, I had to share this cute photo I took yesterday of Kelley.
So cute...can't believe she's 7 already...