My 7 and 4 year old daughters unload the dishwasher as one of their very few jobs to do around here, and I couldn't help but take a picture during their recent activity. Look who else is in there!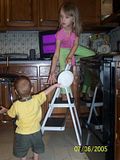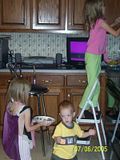 Now before you turn me in for child labor laws, let me just assure you that I have a really sweet helpful 1 year old! He loves his sisters and is always wanting to be with them. One day I caught him helping to unload the dishes (after I unloaded any sharp, cutting utensils first), and I was amazed and amused. Imagine it! A 1-year-old boy taking dishes out of the dishwasher and handing them to his sisters!

Kelley did this. She was 3. She loved helping me whenever I opened the dishwasher to put away the clean dishes. I was so pleased that she wanted to help and even more pleased that she
enjoyed
unloading the dishwasher. So I let it be "her job". Yeah, I see you all shaking your heads. "Uh-oh." It wasn't so much fun for her anymore.
Why is that?!!
She loved doing something new. But when it became something she "had" to do, suddenly it's not enjoyable anymore. Why?
Nothing's changed. They're still dishes. They're clean. It doesn't take long. But suddenly she makes it appear like she's having to pull a ball and chain behind her each trip from the dishwasher to the cabinet.
I finally have my Crochetville Kitchen Swap items ready to mail. I'm going to be 11 days late, but I hope my partner likes what she's going to receive. I hope she's not reading this either, 'cause I want it to be a surprise. Yet at the same time, I wanna share what I've been crocheting!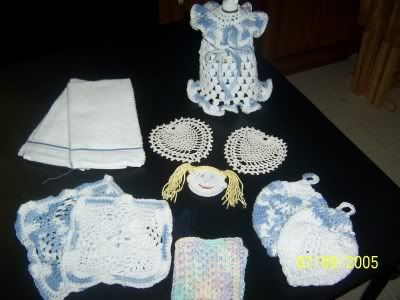 Ok, so I didn't crochet those two white dishtowels in the upper left corner.
I did try to crochet a dishtowel that went with the dishcloths and potholders, but I just didn't like how it was turning out
and just felt the pattern was not right, so I frogged the whole thing! It hurt a little

'cause I spent several days on it, but it was taking me too long to end up not happy with it. Better to frog it and let it go than to send something to someone that was just going to burden me forever, thinking I sent something "not right". So I bought some dishtowels to go with the set of two dishcloths and two potholders. BTW, the patterns came from the book "150 Weekend Crochet Projects".
I also crocheted two coasters in thread (can you see a "Pineapple" theme?) This pattern came from a Leisure Arts Leaflet #2611 "Classic Coasters to Crochet" (#8). Again, problems with the pattern, but I altered it.
The Little Girl Fridgie was inspired from this
free pattern
.
And I must admit that I've always thought a dress or apron to cover your dish detergent bottle was a little....odd. But I've also realized that every day that passes, my tastes change. So I try to never say anything negative about some craft, or pattern, or anything! Because before I know it, I find I LIKE that which I disdained! Or I do that which I said I'd never do! (But that's another story...) This is why you see a dress on the dish detergent bottle. I had to make one just to see what it was like! Plus I thought it would make a cute addition to the "kitchen" theme. Something a little different and unique. I found that free pattern
here
.
Hope my pal likes it.