Just to share some pictures of what I have been working on (besides the Four-Square Doily, which I'm proud to say is finally finished - took less than a week, even through two visits to the frog pond and a pattern error - and is currently being blocked). The first picture is of two coasters for the
Crochet Talk Coaster Exchange
. These will be a reminder of Summer as Autumn approaches. They were fun to make. The pattern is from the leaflet published by Annie's Attic titled "Crochet Coasters" designed by Stitches N Stuff.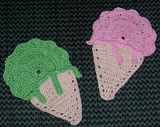 This next project was a bookmark I created for the
Crochet List Bookmark Exchange
. I call it "Bowties and Lace".

After crocheting this one, I worked up another one, writing the instructions as I went and changing it a little from this original one. I also crocheted it in black thread and in the ivory thread as I wanted the "bowties" to visually "pop" a bit more. As soon as I get the ends woven and it blocked, I'll post a pic of the revised bookmark.
And finally, I just had to show you the latest arrival from
PostCrossing
!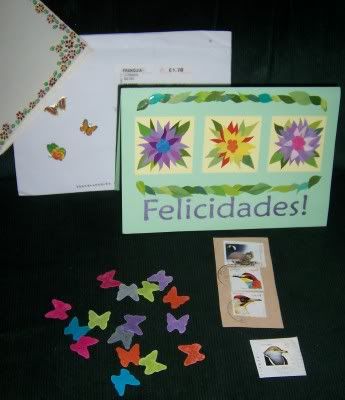 This is not really a postcard, but I am NOT COMPLAINING! This is gorgeous! It is from Mafalda who lives in Portugal and she is very creative. I loved this! She indicates in her wonderful letter that she loves scrapbooking and origami and you can really see that in this card. She cut out all those "leaves" on this card and glued them to the card. She also made lots and lots of "petals", arranged and glued them to make "flowers"! Isn't it just lovely? Such creativeness!
On the second page of her letter, it appears that she hand-drew and colored the flowers and leaves surrounding the entire page! This reminds me of what I used to enjoy doing to my own stationary. :)
Mafalda was attentive to my interests I mentioned in my profile over at PostCrossing and included some stamps from Portugal for my stamp collection. They're so colorful and wonderful to look at. Three are of birds and one is of the planets aligning in space.
Another detail she didn't miss about my interests was my love of BUTTERFLIES! Not only did she affix some butterfly stickers to the envelope, but she included some butterfly cutouts in the card and they trickled out like confetti when I pulled the card out of the envelope earlier! How wonderful! This was such a wonderful and FUN piece of mail to receive in my mailbox.
I think I have a penpal as Mafalda obviously likes the "old-fashioned" way of writing, too. Such a lovely and detailed note from her. Thank you, Mafalda! I don't know if you will be reading this again, but thank you for visiting my blog the first time!