I HAVE!
I'm not sure what to think about this...but then maybe I should be more concerned for the person writing to me FROM Hell!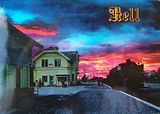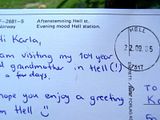 Actually, it's from my Crochetville Secret Pal.
She's in Norway. And there obviously is a Hell, Norway. Whew.
On Tuesday our little cousin Tori (age 9?) came over to play with Kelley, Jessie and TJ. I decided to show the girls how to make the recycled envelopes I learned about last week. Here are the envelopes we made.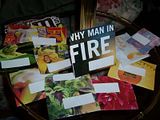 I loved the one with the words. Kelley did that. The advertisement actually read "Why Man Invented Fire". But after she cut it, I thought it turned out really funny..."Why Man In Fire"?
Remember paper dolls? I discovered them again online and am so happy to be able to print them out for free. Kelley and Jessie have enjoyed picking out ones they want, and then I would print them out along with coordinating outfits. If you're interested, a good website is
here
. Of course, you can always just do a search for "paper dolls" with your favorite search engine.
Oh, and I don't want to forget to show you the beautiful origami crane I received in the mail on Monday. It's a RAOK from
Julie
in Massachussetts. She enclosed it in a recycled envelope, too! Isn't it cool? Thank you so much, Julie! RAOKs are FUN!