Alright, here are some pictures...
Rebecca (
EweDevil
) sent me some WONDERFUL goodies for the Bathroom & Kitchen Swap over at Crochetville. Here is a lovely ribboned-on-top, beaded-on-bottom wall plaque which reads "Love, faith, wisdom, joy..."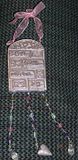 Beautiful stitch markers which are lavender.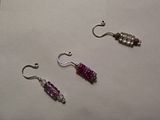 Dragonfly themed goodies - a heavy wall plaque and two tea light lanterns...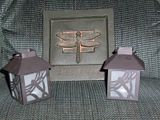 And finally, the rest of the goodies...5 red/white dishtowels, 3 hotpads/potholders in black and black/red, a soap saver with a bar of Caress soap (mmmm....smell that?), a crocheted scrubby, two handtowels for the bathroom with a beaded and crocheted dragonfly pin attached to one! Rebecca said that there is a butterfly she is working on, too, which can be pinned to the other towel. Isn't that a cute idea? There is also a cream colored "potato bag" which she explained to me that you put your potatoes inside and microwave them in the bag! I'd never heard of that but this is great! I love baked potatoes! :) Thank you, Rebecca!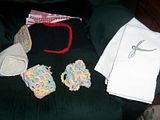 Next is a picture of the bookmark I received from Joan Presnell through the
CLMBX
. Isn't it gorgeous? Reminds me of Fall. Joan also sent several free pattern sheets which I love! Thank you, Joan!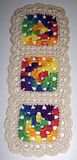 And finally is a picture of something I'm working on....can you guess what it will be?