There is so much to catch up on, but I will try to divide the news with headings so that you can skim through if you must. You might miss something interesting, though, if you skim.....
Wednesday, October 19th -

Online Angels
Many of you faithful readers remember the job situation and stresses DH has been going through this year. It's not over and we're sort of at a standstill as to what our next move will be. Meanwhile, this group called Online Angels sent hubby a lovely lapghan and little caring "trinkets".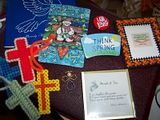 Magnets, pins, beaded angel, plastic canvas crosses... It was a wonderful gesture, and DH loves the lapghan. It's made of denim fabrics and I found it very unique. It's amusing to watch DH use it, though, because he tries to use it as a blanket. He's 6'4! If it's going to be treated as a blanket, he might better put it over our baby TJ! ha ha! Otherwise, it's gotta be a lapghan for DH. There's just no way he can curl up small enough for this to cover him like a blanket. Ha ha!
~~~~~~~~~~~~~~~~~~~~
Thursday, October 20th -

Crochetville Autumn Secret Pal Revealed
A lovely puffy envelope traveled to my home from Norway. It was the Reveal Package from my Secret Pal over at
Crochetville
! Ok, so how many Crochetville residents live in Norway? It wasn't too hard to figure out who she was...but I did keep my detective-ness still until this last month of the round. Then I went to Crochetville and searched for our Norway resident! Well, she couldn't stay a secret forever, could she?
Look at all the wonderful goodies she sent to me and my girls in her Reveal Package!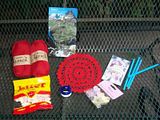 There was a postcard from Norway (I love postcards!), a beautifully crocheted red doily, some gorgeously soft red Alpaca (wow!), some Nivea cream, candies, Disney Princesses erasers, Bathtime confetti, and pencils with blue "jewels" at the top end! It was a wonderful puffy and my girls and I enjoyed it immensely. Thank you again,
Eva
!
~~~~~~~~~~~~~~~~~~~~
Saturday, October 22nd -

Crochetville Winter Scarf Swap



Sue Kelley is a special lady. She picked me up as her additional partner when my original partner had to back out due to Hurricane Katherine troubles. We were to send a scarf to our assigned partners for this swap. Well, as you can see, Sue goes beyond the call of duty in more ways than one. She didn't send just one scarf, but she sent TWO! Aren't they GORGEOUS?? That little red spot in the middle of the folded scarves is a Red Hat charm!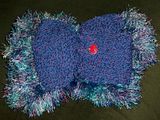 Here are my two girls modeling them...such hams that they are....
~~~~~~~~~~~~~~~~~~~
Monday, October 24th -

Crochet Talk Coaster Exchange
Ami is one of my partners this month for the
Coaster Exchange
over at
Crochet Talk
. Look at the lovely things she sent to me!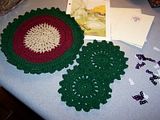 There were two coasters, a trivet/hot pad, a pattern for coasters and place mats which I can't wait to sit down and make, a notecard telling me about herself, and some "Boo!" confetti! This was so much more than I expected! Thank you again, Ami!
Also on Monday, my newlywed brother and sister-in-law sent a wonderful package to the children.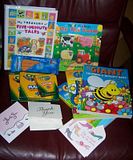 They sent a big storybook, a puzzle book that TJ loves, 3 coloring books, a 'stained glass' coloring book (which I think I forgot to put here to get photographed), 2 boxes of markers, a box of crayons, a package of pencils and handwritten notecards. There was a notecard in there for me, but most of this stuff was definitely for the children - though I love to color, too. Thank you, Paul and Jackie!
~~~~~~~~~~~~~~~~~~~
Tuesday, October 25th -

Crochetville Falling Yarn Swap
Tuesday's mail brought a lovely box of yarn from
Andrea
! Isn't that Fall Leaves tissue paper the cutest?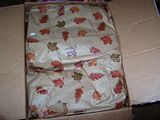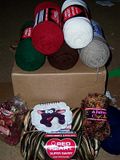 There were 8 skeins of yarn in this package with an additional skein of Paton's Cha Cha in "Tango". It's a lovely eyelash yarn of Fall colors! I bought up the last 2 or 3 wrapperless skeins last year when I saw them in a store, thinking they'd make a beautiful scarf. But I wasn't sure I'd have enough to make a scarf so I didn't try it yet...I think with this additional skein, I'll definitely have to whip a scarf up now. It's gorgeous yarn! There was also a bag of Apples and Cinnamon potpourri (one of my favorite potpourri scents) and the cutest Sheepy notepad! Thank you again, Andrea! I love everything! I'll be sure to post pics when I make an afghan, 'cause these colors you sent to me would be perfect for a Fall afghan...the temps have been dropping here and it really feels like November now!
Red Hat Ladies Society
Well, in my case, that would be "Pink Hat" as I'm not "old enough" to be a distinguished Red Hat Lady yet. I'm merely a "Lady in Waiting". Poor me....do I look very unhappy with that fact here?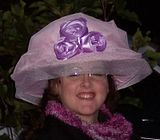 This is a pink hat I made Monday night. It really looks better in person, but this gives you an idea. I layered pink tulle around the top, leaving some to hang over the brim, and made some lavender ribbon roses, too. I received many compliments on it Tuesday evening which was nice considering it's very amateurish. I'd love to know how to make it more professionally.
I won a prize that evening! Out of 13 ladies, I guessed most closely to the total number of Candy Corn in this jar.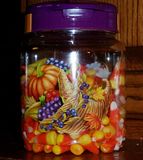 There was a little mathematical system I had to guessing, and while I thought to say 475, I decided to lower it so I wouldn't be too far off (I didn't think there were 475 in it...) So I thought to write down 450. But wanting to use a number that wasn't so round, thinking others would pick that number, I opted to pad a few numbers onto that and wrote down 456, a nice little odd number. Well, good thing I did 'cause there were a couple of "450" answers....and there were 470 candies in the jar!! So while I still won with my "456" answer, that just goes to show that my daddy was right once again...always stick with your first answer! My first answer (475) was only 5 candies off!
And THAT is all the news for now! Believe me, it's fortunate that I even posted all that 'cause I've been trying for days to post! But with small children, it's not always as simple as just sitting down at the computer and typing. I've never seen them pull for my attention or assistance as much as they have these past few days. I've been stopping to give them my attention as they needed and so just finally gave up trying to make a post these past few days. I finally thought I'd have a chance last night, but nope! This time,
I
fell asleep while laying down with TJ to put him to sleep!! I needed the sleep!
I leave you with the completed Doohickeys for my Stitch Marker partners.

I've hooked the stitch markers onto them. Now the recipients can put their hooks in these Doohickeys, small scissors, pins, just about whatever little notions they want! You can get the pattern
here
. It was very easy to make.