Today's mail brought a wonderful surprise from
Cheryl
! Look at these most adorable knitting notecards!
Weeks, maybe months!, ago I saw someone post a picture of these notecards on their blog, and I was covetous! Now, it's not good to covet, but I am happy to say that I have been given my own set now! Thank you so much, Cheryl! Your
Diva Knitting Challenge
was fun. I just wished I had had more personal time to do more squares in a variety of patterns, knitted and crocheted, for your afghan(s). Your "thank you" was too generous!
Yesterday, I mailed a bookmark to my bookmark buddy over at
CLBMX
. It's a crocheted butterfly and I decided to just make a long tail of beads (not that butterflies have tails) so it'd be a little different. I hope Maria likes it!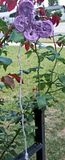 I took a picture of it in my rosebush outside. Just click on the picture if you need a bigger looksee!
And I finally took a picture of the lapghan that Online Angels sent to DH. What a great way to recycle those denim jeans (is that redundant? I mean, aren't all "jeans" denim?)